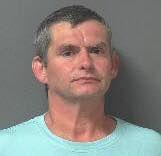 Police say a 48-year-old Peru man stole Halloween decorations from two of his neighbors, including mannequins and witches' hats, and hid them in his house.
Police responded to a report of a theft Friday morning at a home on the 50 block of East 5th Street. The victim reported their decorations were taken sometime overnight, according to a release.
Officers also reached out to the residents of a home on the 250 block of West 7th Street who posted on Facebook that their Halloween decorations had been stolen overnight.
Police received an anonymous tip that the decorations were located at 351 E. 5th St. Officers went to the location and spoke with homeowner, John J. Norris.
Norris denied having any stolen items within the residence. However, in speaking with others, officers were able to gather further information that led them to further believe the stolen items were in the residence.
Police were able to obtain a search warrant for the residence, where they were able to locate stolen items from the initial caller.
Norris was arrested and booked into the Miami County Jail at 3:06 p.m. Friday on two charges of theft.