On a sunny Friday evening in January, Kokomo Police Capt. Kevin Summers parks his patrol car by the community building at Garden Square and greets one of four teenagers gathered on a bench there by name.
"Officer Summers is cool," one of the boys says as Summers gets out of his car and walks over to help up a young girl who had taken a spill on her bike nearby. Three younger kids clamor for stickers from Summers, which he retrieves from the trunk of his car and hands out along with high fives. 
"Put your sirens on!" one girl requests, plugging her ears and jumping around excitedly when Summers obliges as he leaves the complex.
"You guys be good, OK, and be safe," he calls to them.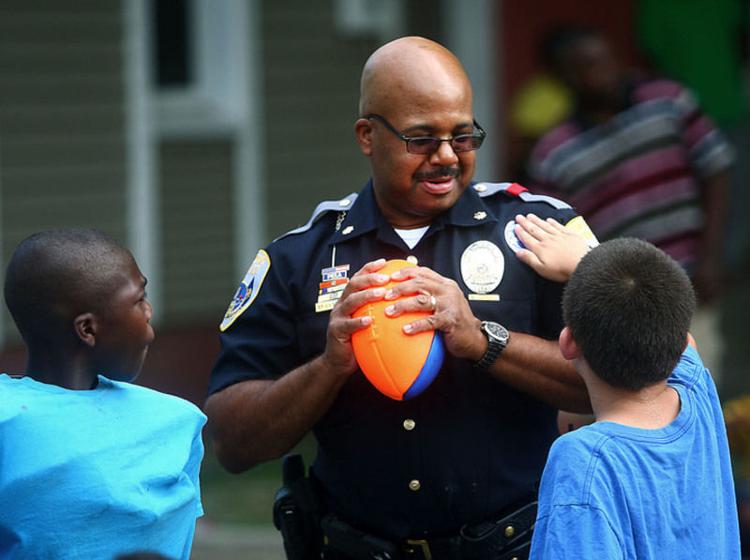 KPD tries to foster that type of positive relationship with Garden Square residents through a community policing approach, explained Summers, who has been with the department for 18 years and recently became head of the public relations unit. Police also host a National Night Out cook-out in Garden Square each summer and have held bike rodeos there to teach children about bike safety.
"Community policing is a concept that goes back and picks up the old beat officer that used to be when you had small towns and they would walk that beat," Summers said. "A lot of the times we're down there it's more of a preventative measure just to let them see us in a positive light."
Officers also frequently come to Garden Square in response to emergencies. The complex's crime rate is more than twice as high as Howard County's as a whole. 
Looking at total annual arrests for all types of offenses, Garden Square's crime rate averaged 177 arrests per 1,000 people per year from 2005 to 2012, according to data from the Kokomo Police Department. The arrests that take place at Garden Square don't necessarily involve residents.  By comparison, Howard County's crime rate averaged about 65 arrests per 1,000 people per year in that same time period, according to the most recent data available from the FBI. 
As Gregory "Fritz" Umbach is quick to point out, public housing itself does not breed crime. In fact, he co-wrote a chapter of "Public Housing Myths: Perception, Reality and Social Policy" on the topic. 
"There is nothing about public housing itself that is inherently criminogenic," said Umbach, an expert on public housing who is an assistant professor at the John Jay College of Criminal Justice at the City University of New York. "Poverty is one of the biggest predictors of crime. One of the things that happens in public housing is you take people who would have been victims of crime anywhere and stack them on top of each other."
---

"One of the things that happens in public housing is you take people who would have been victims of crime anywhere and stack them on top of each other."

---
Like the crime rate, the poverty rate in the area of 800 E. Hoffer St. is roughly twice as high as Howard County's overall poverty rate. About 42 percent of people living in the census tract that includes Garden Square were living in poverty between 2010 and 2014, according to census data. The county-wide poverty rate for that time frame was 17.5 percent.
Bringing together people in desperate financial circumstances who may be more likely to turn to criminal activity and people who already are vulnerable to being victims of crime – minority women, for example, Umbach said – contributes to the trend of public housing seeing higher crime rates. 
---
Changing the Conversation: Poverty in Our Community

---
KPD, however, views Garden Square the same as any neighborhood it patrols in the city.
The police department will employ "directed patrols" to areas that have seen a recent spike in crime, said Randy McKay, director of operations for the City of Kokomo. But police don't spend extra time in an area simply because of its income level.
"There is no special attention or directed patrol assigned just because of an area," McKay said. "The crime has to exist and has to be increasing in order for us to shift manpower to focus on a particular area."
Summers and McKay say they haven't noticed a significant correlation between poverty and crime — noting isolated incidents or crime spikes can happen in any neighborhood — but they are quick to point to the economic recession and then gradual recovery as factors in why crime in Garden Square peaked in the past decade at 120 arrests in the complex in 2008 and then reached their lowest point in 2011, with only 58 arrests occurring in the complex then.
One of the most effective ways to reduce crime in public housing is through a screening process for residents, Umbach said. The Kokomo Housing Authority does not allow people convicted of sex offenses, meth-related crimes or those with debts to other housing authorities to live in public housing. Anyone with a felony conviction of any type has to wait three years before they can apply to move in. 
Some residents have noticed the housing authority has gotten stricter on allowing visitors too. Residents are supposed to register overnight visitors, said Debra Cook, the housing authority executive director, and they would be given a background check as well.
The police and residents agree: much of the criminal activity comes from people who don't actually live in Garden Square.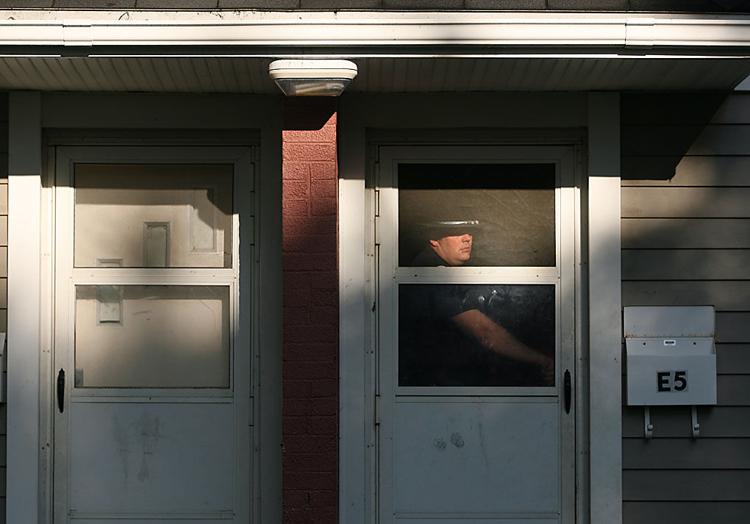 Some residents can name three or four apartments where they believe drug activity is concentrated. Angela Small, who has lived there since 2013, says it's the "not specifics," people who loiter in Garden Square with no one specific to visit, who cause a lot of the problems.
"They've done a lot of cleaning up out here. There's not as many fights as there were. It's always the people from outside, mostly. It's never really the people inside," Small said. "They used to say this was like a drive-up where you could just come here and get whatever [drugs]. It's not like that."
---

"They've done a lot of cleaning up out here. There's not as many fights as there were. It's always the people from outside, mostly. It's never really the people inside."

---
Drug offenses are the most likely to go unreported in public housing, Umbach said, because the people involved, as well as bystanders, have more incentive not to report it to police. Several residents said they are unlikely to call the police out of fear of retaliation from their neighbors or thinking it won't make a difference.
"One of the things that plagues public housing is that as police go after open air drug markets [like street corners], it often relocates to public housing because you're out of the scrutiny of the police and the neighbors," Umbach said. 
Chuck McCoskey, assistant chief of Howard County's Probation Department, who grew up in Garden Square, says some of his probationers have told him they go to Garden Square to sell drugs.
"It's an obvious market for people," said McCoskey, who has worked in the probation department for more than 14 years. "You've got people who are really struggling with life, and when you're struggling with life you look for an escape from those stressors. Drugs and alcohol are what many people on the planet turn to. ... You're going to go where you're going to sell. Garden Square is one of those places."
Jackie Peden, who has lived in Garden Square since 1999, doesn't see the crime in Garden Square as significant issue.
"To me, it's a great place to live. The problems that come here, it's not really the people that live here. It's their guests and their guests' guests," she said. "I can move but I choose to live here. I like it out here for me personally."
Peden also appreciates the police presence. Many residents say they notice police frequently parked in lots near the complex or in the complex itself.
KPD used to have more of a presence there when KHA used a drug elimination grant to contract additional services from 1998 to 2000. When the grant ended, KHA continued to designate $40,000 a year from its capital fund to have an off-duty police officer spend four-hour shifts monitoring the complex. Federal guidelines changed in 2014 and stipulated housing authorities could no longer use federal money for those types of services, so KHA had to end the program. 
"A lot of people [have been] saying, 'They [the police] need to find something to do; they get on my nerves,'" Peden said. "Well it don't bother me. If you're not doing anything wrong it won't get on your nerves."
This series examines the impact of living in concentrated poverty, especially on children, and what can be done to offer hope for the next generation.
To explore this topic, reporters Lauren Slagter and Martin Slagter spent five months taking a closer look at the unique relationship between Garden Square apartments and Kokomo Urban Outreach. The series aims to refute stereotypes associated with poverty by telling the stories of public housing residents in their own words. It will highlight the thin line between poverty and "living well" and outline the efforts of Kokomo Urban Outreach, the Kokomo Housing Authority and other community groups to empower Garden Square residents to achieve self-sufficiency.
The series was reported through dozens of interviews with residents, volunteers and employees of KUO and the KHA, city leaders and experts on poverty. They all say there is more we can do to support our neighbors, and we'll share how you can get involved.