One of the first things many Garden Square residents mention about living in the apartments is the bed bugs and cockroach infestations. 
Some of them will only talk about it if they can do so anonymously, and many are quick to say it has nothing to do with the cleanliness of their homes and more to do with the bugs moving from apartment to apartment. Of the 22 residents who were willing to speak with the Tribune about the issue, about half said they had experienced pest problems in their apartment, some noting the housing authority took care of it and some saying the treatments weren't effective.
It can be embarrassing to admit there are bugs infesting your apartment, which Debra Cook, executive director of the Kokomo Housing Authority, says prevents some residents from reporting the problem.
"A lot of times, they may be embarrassed by an issue and may not tell us," Cook said. "Many times they don't tell us until it's to the point where you're doing three treatments to try to get it under control."
---

"Many times they don't tell us until it's to the point where you're doing three treatments to try to get it under control."

---
Stephanie Reed's family first noticed signs of bed bugs in their apartment around Christmas 2014. As she and her three teenage children prepared to move out of Garden Square at the end of February, they still were not rid of the pests that had destroyed three sets of their furniture, though KHA sprayed insecticide in the apartment periodically throughout that time, Reed said.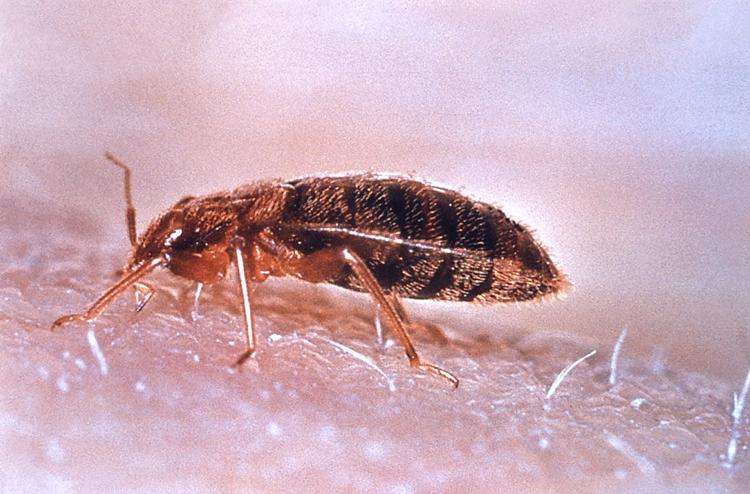 When a resident reports a pest problem, the housing authority will send an employee to do an inspection and determine if treatment is needed. If necessary, they will hire a pest control expert to spray the infested apartment and follow-up to see if more treatments are necessary.
Some people who have lived in Garden Square for years say they've never had an issue with pests.
The only furniture in Reed's whole apartment now is a wooden table and single chair in the kitchen, some end tables and a desk in the living room, and a bed upstairs. Bed bugs destroyed the furniture Reed moved in with, then infested a couch, chair, rug and two beds her fiance's parents bought them, then futons and new living room furniture she purchased with her tax return in 2015.
The bugs are in the baseboards of the apartment, picture frames and TV, Reed said. Despite cleaning her apartment the day before in late December, there's still grime around the baseboards of their living room – bed bug feces.
"I had to throw all of our stuff out," Reed said on New Year's Eve. "Now they're starting to come and spray every 30 days, and it's a little bit under control. We're not getting ate up every night."
In 2015, KHA treated 104 of its 551 units for pests, which represents about 19 percent of KHA's public housing units. In Garden Square, 35 units were treated for pests that year, at an expense of $4,900.
The Howard County Health Department, which handles complaints from residents who feel KHA is not providing a sufficient standard of living, reported only five pest-related complaints had been filed in the past five years for all KHA properties. None of those complaints came from Garden Square.
But, many residents say the pest treatments aren't effective. Part of that may be due to a lack of proper preparation for the treatments, and part of it is related to the difficulty of completely exterminating the bugs when they can so easily spread from one apartment to another and be transported on people's belongings.
"When you have so many people in such a compressed area, you're going to have issues. … If we find multiple units have issues, we would treat the entire building including the basement and the outside," Cook said. "We also work with [the residents] on the cleanliness and how they prep for treatment. The success of the treatment depends a lot on how somebody preps."
---
Changing the Conversation: Poverty in Our Community

---
To properly prepare for a pest treatment, residents need to launder all their clothing and bedding and store it in sealed bags outside their home, said Jennifer Rayle, a programmer at Arrow Services Inc., a pest control management company in Kokomo.
"It's almost like moving out of your home," Rayle said.
Any type of fabric found in the home needs to go through the dryer to kill the bed bugs, and all hard surfaces need to be wiped down, Rayle added. Residents should be out the home for four hours following the treatment.
---

"My kids are living in bags. We have no dressers, nothing."

---
"My kids are living in bags. We have no dressers, nothing," Reed said. "I always tell my kids, 'They're getting ready to spray, so put your stuff in bags.'
"We didn't take [the bags of their belongings] out of the house," she added. "That's one thing you should do, but we didn't do that because I mean there's really nowhere for us to take it."
It's also incredibly easy for people to transfer bed bugs from one place to another, Rayle said, noting they can't climb smooth surfaces, but they easily cling to items like coats, bags or purses.
"Unfortunately for students, if a person has bed bugs and they store a backpack or coat in a locker, a bed bug can easily walk over to another locker and infest that person without them even knowing," she said. "We always say bed bugs can walk through walls. Any place a credit card fits, a bed bug can go."
After spending 13 months-and-counting battling the bed bugs, Reed considers herself a "professional" on the topic. She explains what color the bugs are at each stage of life, discusses home remedies for getting rid of them and points out scars from the bites on her arms. Her best defense against the bugs is her clothes dryer; 20 minutes on high is supposed to kill them.
"I tell my children every morning before they go to school to throw their coats and bags in the dryer," Reed said.
Even then, one day a cockroach crawled out of her daughter's backpack at school.
This series examines the impact of living in concentrated poverty, especially on children, and what can be done to offer hope for the next generation.
To explore this topic, reporters Lauren Slagter and Martin Slagter spent five months taking a closer look at the unique relationship between Garden Square apartments and Kokomo Urban Outreach. The series aims to refute stereotypes associated with poverty by telling the stories of public housing residents in their own words. It will highlight the thin line between poverty and "living well" and outline the efforts of Kokomo Urban Outreach, the Kokomo Housing Authority and other community groups to empower Garden Square residents to achieve self-sufficiency.
The series was reported through dozens of interviews with residents, volunteers and employees of KUO and the KHA, city leaders and experts on poverty. They all say there is more we can do to support our neighbors, and we'll share how you can get involved.