INDIANAPOLIS – A single mother working at General Motors in Kokomo, an education reporter at the Indianapolis News and an Olympic gold medalist diver living in California were worlds apart in 1984.
Jeanne White Ginder, Nelson Price and Greg Louganis couldn't have known that within a short time their lives would intersect and remain intertwined over the coming decades. They gathered Wednesday evening on stage at the Indiana Historical Society for the release of Price's book on Ginder's son, "The Quiet Hero: a Life of Ryan White," which was published by the Indiana Historical Society Press.
Ryan White brought Ginder, Price and Louganis together, as he did millions of others inspired by the teenager's display of courage in the face of an AIDS diagnosis. It came at a time when there was little education about the disease, and that led to discrimination and hostility toward him and his family.
Price found White's story worth sharing again and again over the years, profiling him as a Hoosier newsmaker for the Indianapolis Star, including White in all four editions of his "Indiana Legends: Famous Hoosiers from Johnny Appleseed to David Letterman" and writing a magazine article on the 20th anniversary of White's death, which spawned this latest book.
"The Quiet Hero" is intended to share White's story with a new generation, as the straightforward writing accompanied by plenty of family photos makes the book accessible for all ages.
"Part of the message is certainly tolerance," Price said. "It's about second chances, courage. It's about reason in the face of panic, and it's about telling the truth, not distortions or gossip or ignorance masquerading as informed opinion."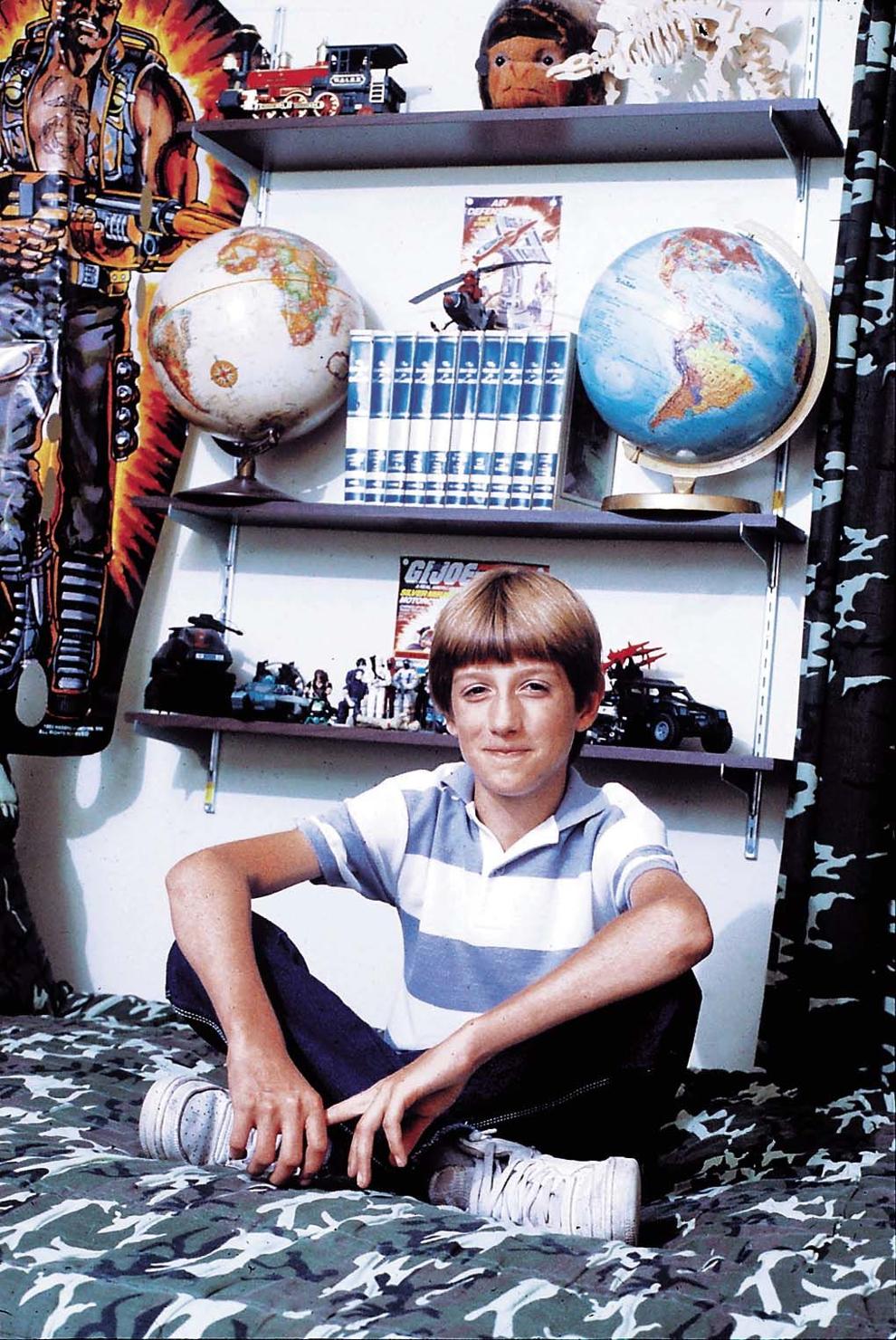 Ryan White sits in his room at his home in August 1985.
Ginder hadn't read Price's account of her son's short but significant life before it was published, a sign of the trust established between her and the reporter who first showed up at her house on Webster Street in 1986, shortly after the news broke that White, 14 at that time, would not be allowed to return to Western Middle School because he had AIDS.
---
"I talked to Ryan in his bedroom, which was full of GI Joes and Marvel comic books – very typical teenage boys stuff, right? But my writer's eye noticed an atypical, distinctive motto that Ryan had framed and posted above his bed. It read, 'I know I'm somebody 'cause God don't make no junk."
---
"I talked to Ryan in his bedroom, which was full of GI Joes and Marvel comic books – very typical teenage boys stuff, right? But my writer's eye noticed an atypical, distinctive motto that Ryan had framed and posted above his bed. It read, 'I know I'm somebody 'cause God don't make no junk,'" Price recalled from his first interview with the White family. "That stuck with me, and so did something else, something his mom said. Out in the living room I ask Jeanne, given the hostility the Whites were experiencing and the overwhelming stress, why don't you just move? Her response haunted me, 'So who, Nelson, will buy the AIDS house?'"
Price opened his portion of the presentation at IHS by recalling what it was like at the Whites' house on April 8, 1990, the day of Ryan's death at the age of 18. At that time, they were living in Cicero, and media, grieving neighbors and celebrities including Michael Jackson were there to pay their respects. Elton John spent the final days of White's life by his bedside with Ginder and other close family and friends.
"We've seen the epidemic from the very beginning, from when there was no education at all and even doctors disagreed with other doctors about how AIDS was transmitted," Ginder said.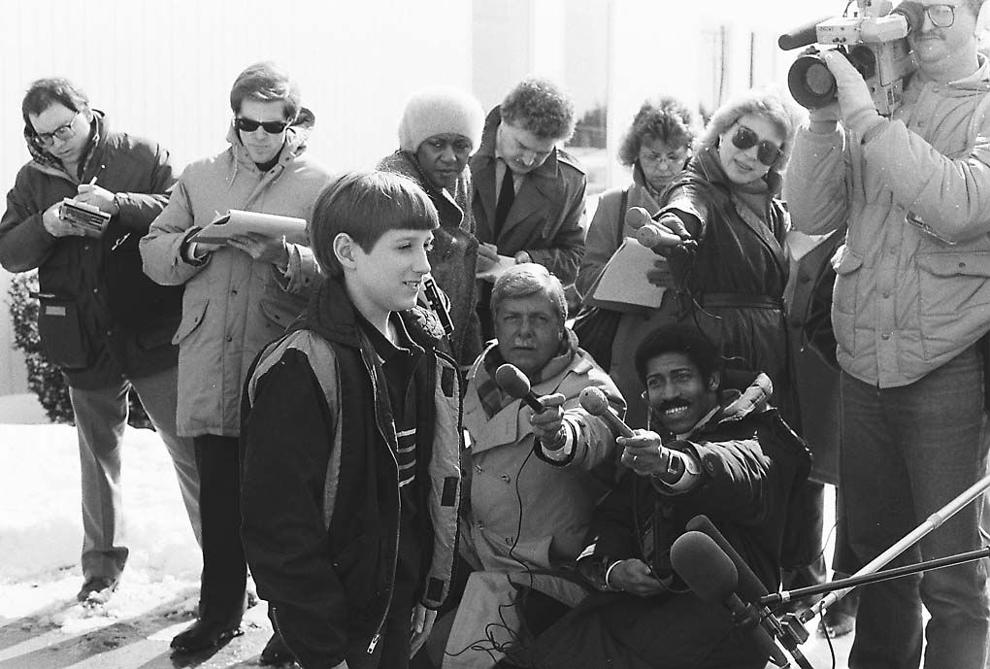 Media from around the country surround Ryan White as he returned to Western Middle School Feb. 21, 1986. Later that same day, an injunction was granted prohibiting him from going back.
The White family – Jeanne and her two children, Ryan and Andrea – gained national attention in 1985 when they filed a lawsuit in U.S. District Court to fight the school's decision to ban Ryan, a hemophiliac who contracted HIV through medical treatments with contaminated blood-based products. While that legal battle gave White a national platform that Ginder leveraged after his death to continue raising awareness about AIDS, Ginder said at the time she was focused on simply keeping her son alive.
---
"Everybody thought the fight to go to school was our top priority. My No. 1 priority was keeping Ryan alive.
---
"Everybody thought the fight to go to school was our top priority," Ginder said. "My No. 1 priority was keeping Ryan alive. No. 2 was trying to keep my daughter involved in our family because so much attention was being drawn to Ryan and so much attention was being put on me, but she was having her own issues too. No. 3 was my job at General Motors, which I had to have for the insurance [to pay White's medical bills]."
Louganis heard about what White and his family were going through, and he identified with White's experience of being bullied as a child. He was the first celebrity to reach out to Ginder, inviting them to the 1987 Pan American Games in Indianapolis; Price happened to be covering that competition too. Louganis won two gold medals that day and gave one to White, which was the start of a lifelong friendship between Louganis and the White-Ginder family.
"I felt if I reached out to this young man and people saw that I'm not afraid of him, then maybe other people would be much more accepting," said Louganis, who is HIV-positive but didn't know it at the time he befriended White.
At Wednesday's presentation, Louganis talked about the ways White inspired him, especially at a difficult time in his career when he hit his head on the diving springboard during preliminaries for the 1988 Seoul Olympics, suffered a concussion. He still went on to win two gold medals in the games.
"The thing that I take away from my relationship with Ryan is that fighter in me. … Ryan taught us so much in such a very short period of time. His impact is tremendous," Louganis said. "That's the thing that's so wonderful about the book – it's reintroducing Ryan and his story to a new generation. … It really, I think, gives young people hope of empowerment, that they have a lot more power than they think they do and they can affect change just by being loving and accepting and kind."
During a question-and-answer session at Wednesday's event, Price fell into his natural role as interviewer and asked Ginder what it was like going from working at Delco to becoming a national speaker. Ginder said she was very hesitant to get involved at first, but U.S. Sens. Edward Kennedy and Orrin Hatch urged her to advocate for the bill that would be named the Ryan White Care Act in 1990, which guarantees access to health care for people with HIV or AIDS who otherwise couldn't afford proper treatment.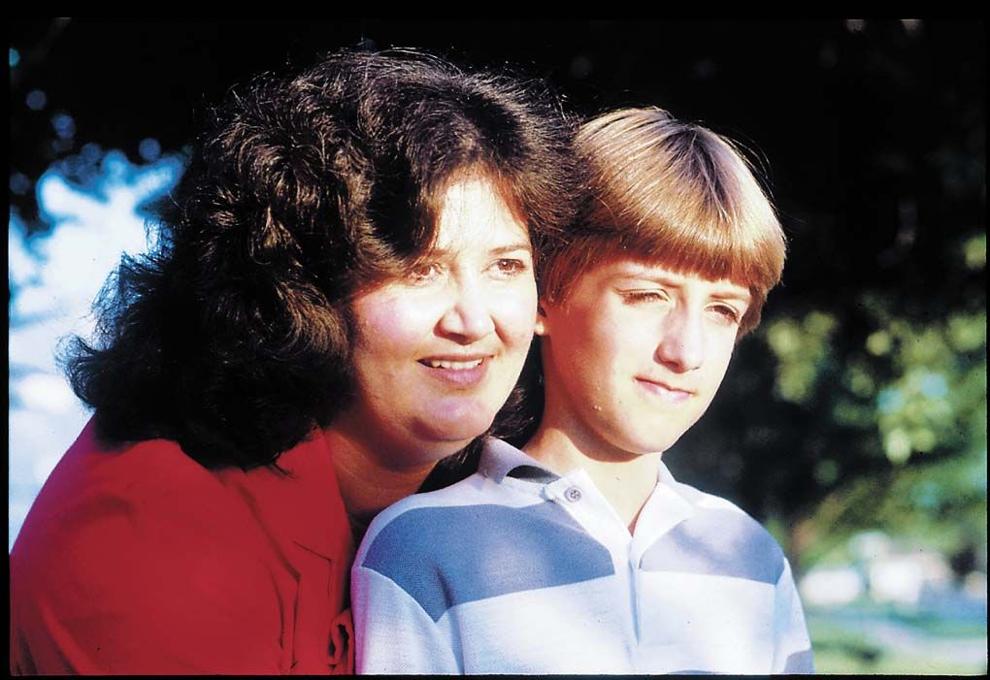 Mother and son: Jeanne and Ryan White pose together at their home in this file photo from August 1985.
Through all of her public appearances, Ginder said she stayed true to being Ryan's mom and sharing what her family has been through from a mother's perspective.
"It was really hard when he actually passed away. There was such an emptiness, and I thought, 'His life is over, our life is over.' Little did I realize it was just beginning," Ginder said, recalling her first public speech in Washington, D.C., in support of the Ryan White Care Act. "For the first time, I felt like I had a story to share too. … I started speaking and I've been doing it ever since."
The crowd at the book release was warm and welcoming to Ginder, Price and Louganis. Many felt a personal connection to White's experience in some way, whether they had grown up in Indiana about the same time he did, knew people who had worked at Hamilton Heights School Corp. when White attended there or identified with his experience as a hemophiliac.
Twenty-five years after his death, White's story is still impacting people in Indiana and beyond, and "The Quiet Hero" will further prolong his legacy.
"I never dreamed that I'd be still sharing Ryan's story and that his legacy would be continuing 25 years later," Ginder said.