Applause exploded inside Howard County Democratic Party headquarters shortly after 7 p.m. Tuesday night, a whiteboard pushed into the room's northeast corner and the dramatic entrance of its newly-crowned mayoral candidate causing the crowd's jubilation.
Abbie Smith, joined by her family and a cadre of supporters, entered the third-floor room overlooking downtown Kokomo in the moments following the final tally of her primary victory over Kevin Summers, a set of blue numbers on the whiteboard detailing her dominant 58.45% to 41.55% victory.
"We planned … we worked, we believed and we won," said Smith to a packed crowd that moments earlier had been chanting her first name, which for months has appeared on yard signs and T-shirts across Kokomo.
"This election is not about changing the past; we know that's impossible. This election is not about the past. It's about what's next."
Smith has won with 58 percent of the vote over Kevin Summers. Here is the moment the final numbers were written on the board. It was milked. pic.twitter.com/Xz5I774eU6

— George Myers (@gmyerskt) May 7, 2019
The reveal of those numbers – timed for maximum effect by party officials whose full confidence in a Smith victory had been attained by the mid-point of result releases – brought an end to a Democratic mayoral primary unlike any before it.
It included Summers' unexpected candidacy announcement in December, followed by a sharp rebuke and stinging accusations from a Democratic Party that tainted the two sides' relationship, and Mayor Greg Goodnight's shocking announcement weeks later that he would not seek a fourth term.
It all culminated in Smith's declaration in late January that she would seek the party's nomination for mayor. She was a political newcomer, albeit a recognizable face as the leader of a major nonprofit, stepping into a contest against a former city councilman, Kokomo police officer and school board member.
Smith's race against Summers started on a contentious foot when Summers called on her to resign her leadership position within United Way but proceeded largely without conflict in the final months and weeks leading to Election Day.
Instead, the two candidates took to the streets and pushed online and social media efforts to inspire voters that they should be the first Democratic mayoral candidate not named Greg Goodnight to appear on a general election ballot since 2003, when Democrat Andy Castner lost to Republican Matt McKillip.
By the end of Tuesday night, Smith had achieved a nearly 17-point victory that never seemed in jeopardy, her percentage of the vote never dropping below 57% as vote-total updates were posted rapidly online.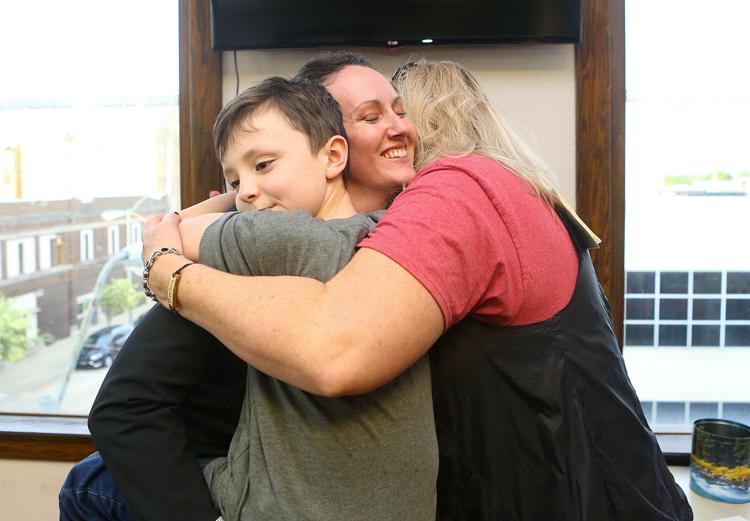 "I'm not sure I really knew exactly what to expect," said Smith, who said the difference was "direct voter contact." She also raised more than triple the amount generated by Summers. Smith's campaign received $35,763 in contributions from Jan. 1 to April 12, compared to $10,940 for Summers.
"We did our best to know our universe and know our prospective voters, but at the end of the day Election Day is Election Day."
The city, across 13 vote centers and roughly a month's worth of early voting, cast 7,516 ballots. Just under 4,000 of those, or nearly 53 percent, were Democratic.
It was enough for Smith, who said she walked 91 miles and talked to 6,739 people during her campaign, to snag a commanding victory over Summers.
Summers built his campaign around restructuring Kokomo away from the Goodnight administration's philosophies, including increased staffing in numerous city departments, specifically police and fire; a rethinking of the city's philosophy on road diets and bump-outs; and a return to an ambulance service within the Kokomo Fire Department. 
"We put everything out there, like I said in my campaign, we've raised our family here, we've served here and I felt that I was the most experienced candidate going into this … but, you know what? I'm at peace with it because the voters spoke and they chose a different direction and so we have to accept that and move on," said Summers, who did not attend the Democratic Party's bash, in a phone interview.
Smith – who also embraced increased KPD staffing but concentrated on "proactive community policing" and not crime levels, unlike others this spring – shaped her campaign on what she said were the top concerns of city residents: infrastructure; jobs and economy, including a shifting landscape that includes retiring workers and automation; and drugs and public safety.
"I talked to thousands and thousands of people and actually listened to what they had to say, and I think that when you reflect back what a community wants and genuinely commit to that plan, they recognize that. They recognize authenticity," she said.
Smith felt her policy positions allowed her to be more in-tune than Summers with what voters wanted in a mayoral candidate.
"I think that you have to actively listen to what people are really saying and not put words in their mouths," she said. "They definitely have public safety concerns, but those are not their only concerns. …  And even the infrastructure concerns that get all of the attention, the bumpouts and potholes, those aren't their only infrastructure concerns.
"So even if you're saying those things, what they know is that's not the full picture. That's not the complication of their life. I think having more complex answers and longer answers and better thought-out strategies, even though they take longer to listen to, people do actually do that."
Summers, who called Smith to congratulate her following the final results, declined to discuss what he thought was the difference in the election.
"I'm just a realist. The votes came down, and I'm not going to speculate," he said. "I've got my own personal opinion and I'm going to reserve that for myself because I don't want it perceived – because it can be reported one way or the other.
"I'm going to reserve it to myself and just know that the voters spoke, and that's what we're going to do, we're going to stay positive, as we did the whole campaign. And we'll leave it at that."
Summers, who switched from the Republican Party to become a Democrat in 2015 before a failed run one year later for county commissioner, said it is "too early" for him to announce what candidate he will support for mayor this fall.
"I think we have to search out the candidates here and their platforms and see what they have to offer our community," he said. "I'll be supporting what I believe is the best interest of the citizens of Kokomo."
Summers believes the Democratic Party's attacks – party leaders accused him of attempting "to coerce" Goodnight into hiring his son as a police officer and said Summers had "scammed" the Democrats and was "blatantly self-serving" – played a role in the election results.
Howard County Democratic Party Chairwoman Kathy Skiles acknowledged Tuesday that "maybe we were a bit harsh" but said Summers was at the time effectively announcing a campaign against the incumbent Goodnight, who had yet to reveal that he was not running.
Summers' decision, said Skiles, came as "a bit of a shock to the party."
"I wouldn't say that we had it out with Kevin. I would say that we had difference of opinions on Kevin running for mayor," she added. "But ultimately it was Kevin's choice to do so, and he did.
"And Abbie prevailed and is the winner. And now we can say we are supporting a candidate for mayor."
Summers, however, called the party's comments in December "the starting point of the character assassination."
"I do not want this perceived on anything as being sour grapes, because, like I said, I've accepted this and we move forward," he noted. "But the character assassination started within the Democratic Party there and then it didn't let up all the way through many reports from the Tribune and the Perspective.
"But there again, we're going to move forward. I don't want sour grapes because I'm not putting it in there. That's just what I believe, and I think a lot of the articles were slanted against us, and old articles that were brought back up that pulled scabs off of individuals that were involved in those. There again, that's just what I feel and what I think many of the voters shared with us, the slanted reporting and it was biased."
He added: "But, like I said, if you'll do me one favor out of this whole thing, it's not sour grapes. It's just a reality."
Republican victor
Republican-elect for mayor Tyler Moore stepped to the podium to a standing ovation Tuesday night at the party's downtown headquarters.
"Republicans, it's game on," he said smiling.
Moore earned 90% of the votes in this year's primary, with his opponent Richard Stout receiving just shy of 10%.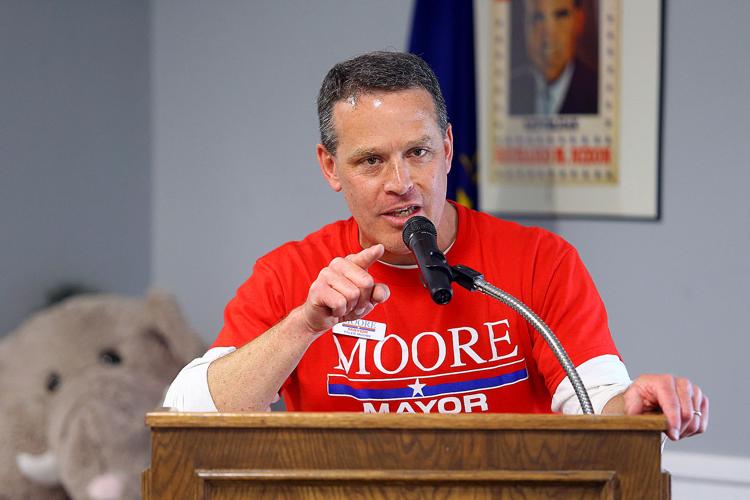 In his acceptance speech Tuesday night, Moore thanked the crowd of supporters and smiled as he said that it's now going to be an even busier summer. He also said Republicans will need to continue to band together for this fall's general election, when Moore will face Democrat-elect for mayor Abbie Smith.
"We're going to have a united approach because we know that's what it's going to take to make the necessary changes in our community," he said. "I came into this day with two different plans of attack depending on who would win, and now it's about sitting down with that particular plan and mobilizing it, hitting the streets and keeping momentum.
Moore also took a few moments to credit his opponent, calling Stout a candidate who "took the initiative and put himself out there."
"He's an honest man that knows what he wants for his community," Moore told the crowd. "I wish he was here because I would shake his hand. He's an honest man who speaks his heart, and I admire that in him."
And though he was defeated in Tuesday's primary, Stout said that Moore has his full support heading into the fall.
"I know he can do the job," Stout said, referring to Moore, a Howard County commissioner in his third term. "He has my vote. If he needs somebody to campaign for him, I will help him out."