TIPTON – Tipton residents saw a strange sight in Cicero Creek on Tuesday morning.
An accidental milk spill inside Park 100 Foods led to no more than 300 gallons of milk getting into the creek, leading to a large cleanup effort for the accident, which is not considered dangerous.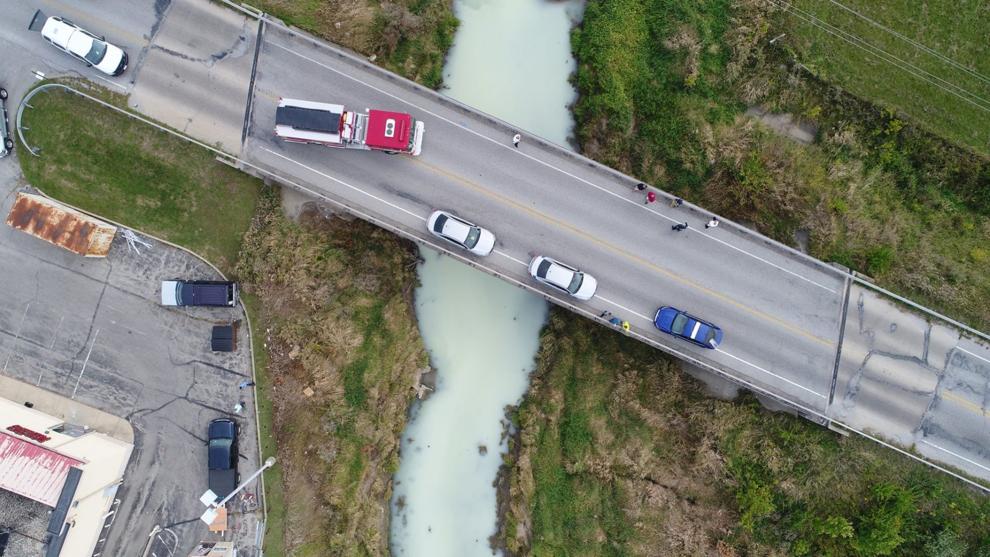 Tipton County Emergency Management Director Chuck Bell said Wednesday that when they first received a call that the creek was appearing in an unusual hue, they weren't quite sure what was causing its odd appearance. They cleared that up with Park 100 Foods, when representatives stated that it was in fact milk in the water, and Bell said he contacted the Indiana Department of Environmental Management (IDEM) to ensure it wasn't a dangerous situation.
"As the IDEM rep told us, milk's not dangerous, it's just extremely annoying," said Bell.
The method Tipton County personnel used was to place hay bales into the water at two different points to act as a filter. Bell explained that since milk is heavier than water and tends to sink toward the bottom, the bales would catch the milk and the water would continue its normal flow.
A clean-up company was contacted, and it essentially vacuumed the milk from the creek, said Bell, adding that about 80 percent of the milk was cleaned up by 2:30 p.m. Tuesday. Around 14,000 gallons of a water and milk mixture was removed from the creek.
On Wednesday, Bell said the creek was looking normal again, adding that they still needed to remove the bales of hay and look for additional milk residue.
If the creek wasn't cleaned up, although it wasn't deemed dangerous, Bell said the milk would have settled onto the creek bed.
"By the time you get a heavy rain, it would just kind of filter back up, and you would get a milky substance for a while and a lot of phone calls," he said.
Bell said initially there was a plan for the fire departments to unload their tankers into the creek to get the flow of water moving faster. However, the creek's water level was low enough that it didn't seem to make much of a difference, so they let the filtering process flow at nature's pace.
The Tipton Police Department, Tipton County Emergency Management, Tipton County Sheriff's Department, Tipton Fire Department, Tipton City Waste Water, Tipton City Street Department, Tipton City Water Department, Cicero Township Volunteer Fire Department, Kempton Fire Rescue, Sharpsville Fire Department, Madison Township Volunteer Fire Department and Wildcat Township Fire-Rescue-EMS all responded to the scene.