Nearly 1 in 5 of Indiana households with children struggle to afford enough food, according to an August report by the Food Research and Action Center [FRAC], a national nonprofit organization.
The center released its findings earlier this month, showing an 18.9 percent "food hardship" rate for Indiana households with children.
Things are no better in Howard County, where another organization, Feeding America, found that 14.8 percent of the county population is food insecure. More troubling is the 19.6 percent rate of food insecurity for local children.
Food hardship, which is titled "food insecurity" by the United States Department of Agriculture [USDA], is an economic or social condition where people having limited or uncertain access to adequate food.
To calculate the percentage of Indiana homes where there is food hardship, FRAC analyzed a Gallup poll of 300,000 families across the country from 2016 to 2017 that included the question: "Have there been times in the past 12 months when you did not have enough money to buy food that you or your family needed?"
FRAC took the answers from that poll and analyzed the rates at which families answered "yes" to the question.
According to FRAC, Indiana has the 20th worst overall rate of food hardship in the nation, at 15.8 percent. The national overall food hardship rate was 15.4 percent, with a rate of 17.9 percent for households with children.
"While often hidden behind closed doors, food hardship is a serious national problem that requires a serious national response," said Jim Weill, president of FRAC.
"Too many people in every region, state and community have been left behind in the economic recovery from the Great Recession and are still struggling to put food on the table."
Weill said Congress and most states have failed to provide needed initiatives that could have boosted wages and public programs for people experiencing food hardship.
He also accused the Trump administration and U.S. House of Representatives of attacking initiatives like the Supplemental Nutrition Assistance Program [SNAP, formerly known as food stamps], school meals and Medicaid.
SNAP has been a particularly contentious issue. The program is funded by the federal government, but administration is left in the hands of the states, many of which have income and work requirements in order to qualify.
"The high rates of food hardship underscore the need for Congress to pass a Farm Bill that protects and strengthens SNAP, otherwise, we will see worse health and hunger for struggling children, seniors, working families and others across the country," said Weill, referring to an ongoing debate on the topic that's involved legislation in both the U.S. House and Senate.
SNAP is at risk as Congress attempts to reconcile two versions of the Farm Bill, one passed by the U.S. House of Representatives and another that passed the Senate earlier this summer. The Senate version protects SNAP and provides for job training, while the House version would eliminate SNAP benefits for an estimated 2 million people.

There are more than 601,000 people who receive SNAP benefits in Indiana, according to the state's Division of Family Resources.
But there are many more who are food insecure who are not getting benefits.
Feeding Indiana's Hungry, an advocacy group operated by Indiana's State Association of Food Banks, announced earlier this month that many Hoosiers who qualify as suffering from food hardship aren't eligible for federal food assistance.
Overall, 31 percent of state residents who are food insecure don't qualify for SNAP, according to the group, which cited Feeding America's Map the Meal Gap report. 
What that means, wrote Emily Weikert Bryant, executive director of Feeding Indiana's Hungry, is that Hoosiers must rely on food banks, churches and other civic organizations for adequate food. Often people use services like Food Finders Food Bank to supplement other forms of limited income.
Food Finders Food Bank is a service available to 16 Indiana counties that provides food to member agencies, advocates for the hungry and educates the public on issues related to hunger.
Notably, Food Finders in Lafayette is the designated food bank for the Howard County area. Food banks, in effect, distribute to organizations that then deliver food to their communities; it also accepts large donations that could not be accepted by smaller pantries.
Even with available services like food banks, though, most experts are worried about losing government assistance programs like SNAP.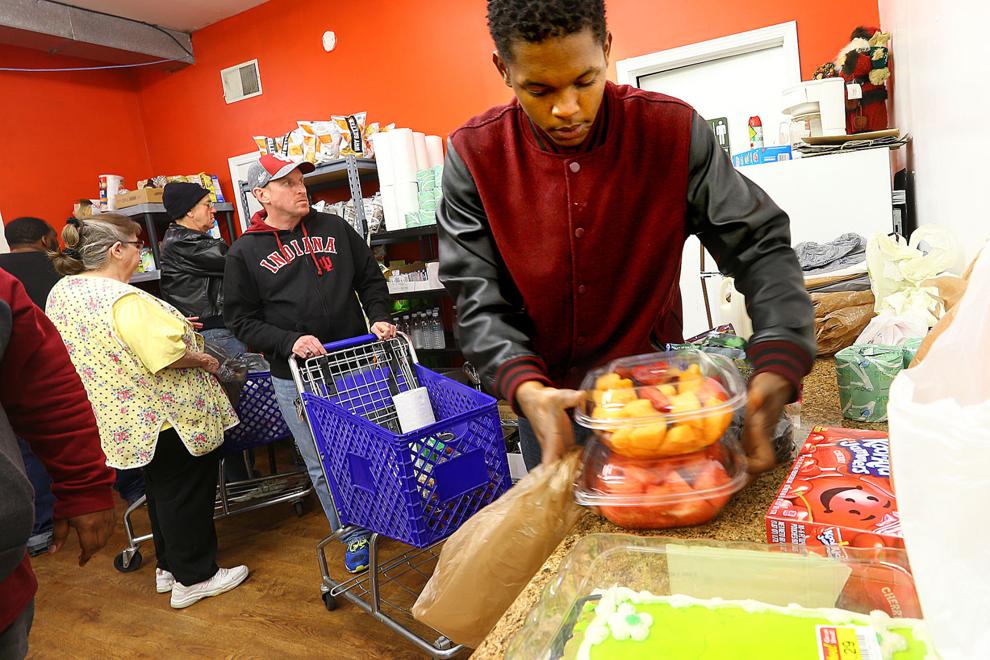 "For every one meal that a Feeding America affiliate distributes, and there are 200 Feeding America food banks across the country, there are 12 SNAP meals that are plugging in the gaps in that family's food budget," said Weikert Bryant.
"Whether it's buying cheap food or watering things down, which includes baby formula, all of these things come into play when a family is trying to get enough food on the table."
Cheryl Graham, community resource program director for United Way of Howard County, said in a previous interview that the people visiting food pantries and community meals are oftentimes in what's called the ALICE group, which stands for Asset Limited, Income Constrained, Employed.
Those in the ALICE group have jobs, but they don't make enough money to support themselves and their families. Around one-quarter of working adults in Howard County fall within ALICE boundaries.
People can be in this group because they simply don't make enough money overall, or they're dealing with a hardship, such as an unexpected death or a broken-down car.
"What if they just need food because they tumbled? Food can be a resource that the community can have to help stabilize them," said Graham.
Combine that with a poverty rate of around 15 percent in Howard County, and food insecurity becomes an inevitable issue.
"Over one-third of our population is not able to make a survival budget," said United Way of Howard County President Abbie Smith.
Instead, families are forced to patch together resources like free and reduced lunches at school; SNAP; food pantry visits and more to maintain a level of food security.
Still, not everyone can reach that threshold. And it's incumbent on Howard County's social services to pick up the slack, noted Smith, specifically in providing more food through food pantries and other associated services.
"The reality is we are not moving enough food in Howard County," she said, citing Food Finders and Feeding America data.
"I ask that question. Doing due diligence for our donors, I said, 'How much is too much food? At what point do we do something else?' And they said, 'Abbie, you're not even close. We are not moving enough food in Howard County.'"
In Indiana counties, food insecurity rates stretch from under 9 percent in the high-income area of Hamilton County to more than 18 percent in Marion County, according to Feeding America, the nation's largest domestic hunger-relief organization.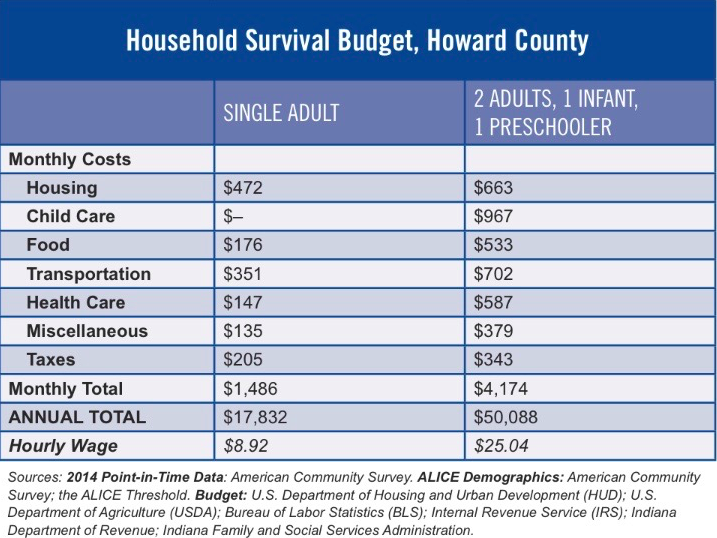 Food insecurity in other places includes 10.3 percent in Tipton County; 11 percent in Cass County; and 11.3 percent in Elkhart County.
That jumps to 13.9 percent in Miami County; 14.8 percent in Howard County; 14.9 percent in Madison County; and 16.9 percent in Vigo County.
In each of those counties, though, the child food insecurity rate is demonstrably higher than the full population's rate.
Often, a large chunk of those children are not income-eligible for federal nutrition assistance, from 13 percent in Miami and Cass counties to 24 percent, nearly 900 children, in Howard County.
In response, various organizations have started programs to help school-age kids, like a Kokomo Urban Outreach initiative that provide bags of food – called Buddy Bags – at the end of each week to students in need.
And if there's a ray of optimism in the problem of food insecurity, it's the efforts made by individual community members to serve the hungry - even if more is needed.
For instance, KUO no longer offers its regular pantry and instead offers a class, called Food Co-op, where people learn to prepare meals and get the food that they can cook throughout the week for a $10 fee.
Over the last two years, the organization has worked to reshape its connection with the community. Rather than simply providing handouts to people in need, it began programs to help people become self-sustaining.
"There's tons of places to get food that's healthy, nutritious and affordable," said Jeff Newton, director of KUO. "We just want to make sure everybody understands that."
To learn more about available food resources, call United Way of Howard County at 765-457-HELP or call the statewide 2-1-1 United Way service. And to see whether you qualify for SNAP, call Food Finders at 765-471-0062.