Major retail and grocery stores around the city, along with some local businesses, are implementing new measures and ramping up efforts to keep customers and employees apart to slow the spread of COVID-19.
The measures come as groceries and businesses providing essential services around Kokomo have become a lifeline for people ordered to stay at home, and the impact of the virus has reordered priorities at the stores that remain open.
Kroger, Walmart and Aldi all announced this week they will begin installing plexiglass partitions at many cash registers to promote physical distancing. The stores are also installing decals at entrances and checkout lanes to show how far away customers should stand from each other.
Kroger said it will start putting up its barriers this week at every checkout lane and pharmacy counter. Some employees will also begin wearing masks and gloves as supplies allows.
"Personal protective equipment is in short supply across the country, and we fully support America's health care workers having first priority to obtain it," the company said in a release. "We are asking government officials at all levels for help securing a priority place for all grocery workers – after health care workers – to have access to protective masks and gloves."
Walmart said it will install sneeze guards at the regular registers over the next two to three weeks. Stores will also soon start using a two-gallon sprayer kit to sanitize entire shopping carts.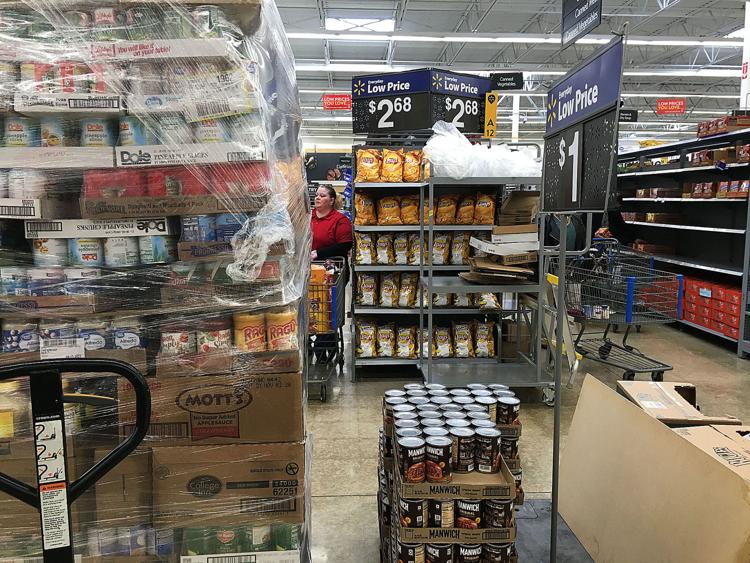 "We remain focused on helping customers and associates stay healthy," the company said in a release. "Based on advice from the medical community, learnings from Walmart's international markets, and new information we're learning every day, we will continue creating and providing additional safety measures for our people and stores."
Aldi said it was "taking steps" to install barriers at checkout locations and installing social-distancing decals on the floor.
One local gas station has also taken similar measures to keep employees and customers remain safe.
Perry Patel, the manager of the Marathon Gas and DP Mart at 3029 W. Sycamore St., said he has hung a plastic sheet between the counter to keep customers and employees at a distance – a move that no other gas station is doing, he said. Employees are also wearing gloves while handling money.
"Sometimes, a few hundred different people are coming in every day, and I don't know who has what," Patel said. "It's for my security and my employees' security."
Patel said he's also ramped up his cleaning regiment at the store to make sure it is as sanitary as possible.
"It's all about the security," he said. "It's good service for my customers, too."
Other stores in the city are taking more unique steps to encourage social distancing.
Sam's Club announced Tuesday it was launching a new concierge service for members who are seniors or have compromised immune systems. On Tuesdays and Thursdays from 7 to 9 a.m., those members can shop from a designated parking location. Members can place their order from their vehicle, and a Sam's Club associate will grab the items on the list.
At Walgreens, the company said it is ensuring there's at least 6 feet between pharmacy waiting chairs. For chairs that are connected together, stores are placing signage on the middle chair informing customers the chair is not available.
Beyond social distancing, most every major store chain located in Kokomo said they are also beefing up cleaning and sanitation at checkouts and other heavily trafficked areas inside their buildings.
Lowes said it is temporarily reducing hours and closing all stores at 8:30 p.m. Monday through Saturday and at 7 p.m. on Sunday. The hours took effect Monday, and provide additional time to thoroughly clean and sanitize the stores daily, the company said. Cashiers and other workers have also been instructed to clean their work areas and registers after each customer interaction.
At Target, a team member will be stationed at the store entrances to make sure carts are clean and available in an orderly fashion. The store is also cleaning checkout lanes after each guest transaction, and workers will rotate the use of lanes to allow those not in use to be deep-cleaned.
The company said workers will also refrain from handling reusable bags. Customers who bring them in are asked to bag their own items at checkout.
Jennie Cauthern, public health project coordinator for the Howard County Health Department, said all the measures taken by area businesses will go a long way in stopping the spread of COVID-19.
"The Howard County Health Department appreciates the stores taking these precautions to keep the community safe as it should help prevent a large jump in new cases from community transmission when done appropriately," she said in an email.
The push for more social distancing and sanitation comes as local, on-the-ground workers at groceries and other essential stores have become some of the most vulnerable to the coronavirus pandemic.
Those workers have become vital to ensuring residents have access to food and other essential items, but are required to interact with customers and don't have the option of self-isolation as others follow the state's stay-at-home mandate.
The United Food and Commercial Workers International Union said "grocery and other food workers are still hard at work making sure our communities have access to groceries and other essential supplies during this crisis."
"From one corner of the country to the other, we are witnessing an unprecedented demand for groceries and healthcare, and it is clear that workers in those industries are facing incredibly difficult, stressful and exhausting days," the union said in a release.
The UFCW said it is working with state and federal officials to develop immediate policies that will protect workers' personal and economic health.
The union said it also meeting with some of the nation's largest employees to discuss actions to protect members' pay and benefits, as well as the specific actions they are taking to minimize workers' exposure to the virus.