On the calendar, summer won't officially kick off until June 21, but it's getting an early jumpstart Friday when the 2019 Strawberry Festival descends on downtown Kokomo with a record number of food trucks and activities planned for the event.
Amish-made shortcake, ice cream, strawberries and whipped cream are piled high in bowls, combined with a large lineup of live music to highlight the event, which will take place from 11 a.m. to 9 p.m. on the courthouse square.
Last year's festival served nearly 7,000 strawberry shortcakes, according to a release from the Greater Kokomo Economic Development Alliance, and supplies for this year will include more than 4,000 pounds of strawberries, 390 gallons of ice cream and 575 cans of whipped cream to meet the festival's growing demand.
Tickets for strawberry shortcakes are $5 and can be purchased in advance at any First Farmers Bank & Trust location, any Kokomo-Howard County Public Library Branch or at the Greater Kokomo Downtown Association, located inside Inventrek Tech Park at 700 E. Firmin St.
The annual festival, presented by the Greater Kokomo Downtown Association and sponsored by First Farmers Bank & Trust, will once again partner with First Friday.
Included in this year's record number of food trucks is Georgia's Kitchen, The Apple Donut, Kokomo Coffee Co., Hawg Heaven, Kona Ice, Round Barn Creamery, Snack Shack and Sweet Shak, according to the release. Also, The Coterie will offer a food and adult beverage tent, and Bailey Concessions and D&D Concessions will also be on hand.
Additionally, nearly 50 vendors will be set up at the Kokomo Downtown Farmers' Market.
Activities will encompass the entire courthouse square, according to the release, including the Tiny Tots Motorcycle Adventure presented by ABATE of Howard County, a bouncy house and climbing wall courtesy of Crossroads Community Church North, and a petting zoo thanks to Crown Haven Center.
The Sound of Music's 35th anniversary Celebration and Concert will begin at 6 p.m.
Live music will take place throughout the day on the Rhum Academy Stage at the corner of Main and Sycamore Streets.
From 11 a.m. to 2:45 p.m. performers will include Hailey Gillem, Page Brothers, Sami Soutar and James Lightsey, Gary and Jessica Rhum with Darnell Smith, Kassey King, Averie Stone, Langley Good, Sierra Mabrey, Claire Radel and Gary Rhum, and Charlie Hinkle.
Acts slated from 3:30 to 9 p.m. include Averie Stone, Anne Marie, Kathryn Helminiak, Emerson Rhum, Logan Brittain, Jadn Simpson, Page Brothers, Mitchell White, Sami Soutar and James Lightsey with Ione Wallsmith, Hudson Kalkstein and Levi and Emerson Rhum with Tim Edwards, Texture Mess, and Gary Rhum.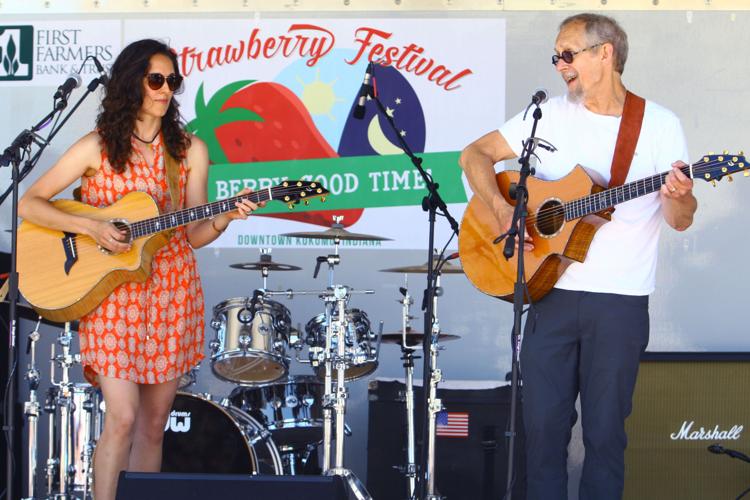 Community Howard Regional Health will have its CareMobile parked on the square as a feeding and changing station for parents and babies, and will also offer hands-on CPR training. And Maverick Security Solutions will have a phone-charging station near the Rhum Academy stage.
Other sponsors for the event include Indiana Army National Guard, Moore's Pie Shop, King's Cleaning Solutions, Glover's Ice Cream, Kokomo Meijer and a2z Promotions.