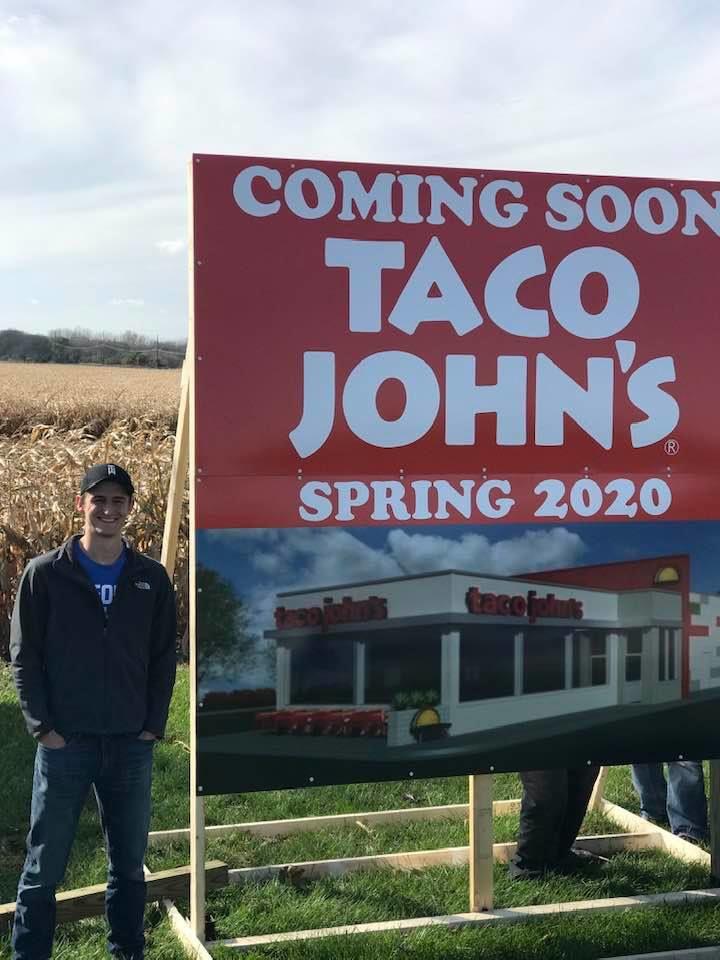 Taco John's was one of the most popular fast-food restaurants in Peru for around 40 years, until it closed in 2014.
But now, it's back.
Ben Van Baalen, a 20-year-old Peru native who is currently attending Indiana University Kokomo School of Business, is the new franchisee of the eatery, which is set to open in June at 850 N. Broadway on the city's north side.
At the same time, it will become only the fourth Taco John's location in the state.
Van Baalen said he decided to bring the restaurant back to Peru because of its huge popularity, ever since it opened in the 1970s. He said it ended up closing not because of a lack of sales, but because the former franchisee wasn't able to maintain the business.
After that, people would drive hours to the next closest locations in Lebanon or Michigan to get their favorite burrito or the restaurant's signature Potato Olés.
"There's a lot of nostalgia for Taco John's in Peru, and it was really successful for years," Van Baalen said. "I think it still has a lot of potential here and people still really like it, so I'm opening one up."
And since he posted about the opening on Facebook earlier this month, the feedback from Peru residents has been astounding.
"It's been overwhelmingly positive," Van Baalen said. "They were beyond excited when it was announced."
Site work is now underway on the new building, which is located on about 2 acres just north of Peru's Taco Bell. That land is owned and being developed by Van Baalen's father, Dave, whose company recently developed a 125-bed student housing complex near IU Kokomo.
Van Baalen said he plans to hire up to 60 workers by the time the restaurant opens, per the request of Taco John's corporate leadership. He said most of those hires will be part-time workers, and that number may drop off once it opens. The annual hourly payroll will be around $200,000, according to state documents.
The Peru City Council last week approved a tax incentive for the restaurant that will reimburse 60% of the real property taxes paid for 15 years out of the Tax Incremental Financing (TIF) fund.
Miami County Economic Development Executive Director Jim Tidd told the council the incentive was in "recognition of the investment being made by the developer in this particular project."
Taco John's started in 1968 as a small taco stand in Cheyenne, Wyoming. Franchise locations started opening the next year. Today, Taco John's operates and franchises nearly 400 restaurants in 23 states, making it one of the largest Mexican quick-service restaurant brands in America.
Van Baalen said once Taco John's opens, he will be the fourth generation of his family to operate a business in Peru.
"It has been my lifelong dream to be able to stay in Peru and help my community, just as the generations of the Van Baalen family before me have done," he said in a Facebook post.