Less than three weeks ago, business was humming along as usual at Half Moon Restaurant and Brewery.
Then came the spread of coronavirus, and an order from Gov. Eric Holcomb on March 16 declaring restaurants had to close their in-person dining areas and could only offer carryout or delivery.
Two days later, Half Moon owner Chris Roegner made the painful decision to close in order "to be part of the solution rather than potentially being part of the problem" as more and more cases of COVID-19 were reported around the state.
Now, the restaurant faces hundreds of thousands of dollars in lost sales. More than 90 employees have been furloughed and are on unemployment. Roegner said he'll likely be required to take out more loans that will take years to pay off just to make ends meet.
And what makes it even worse is there's no end in sight on when the financial pain might end, he said.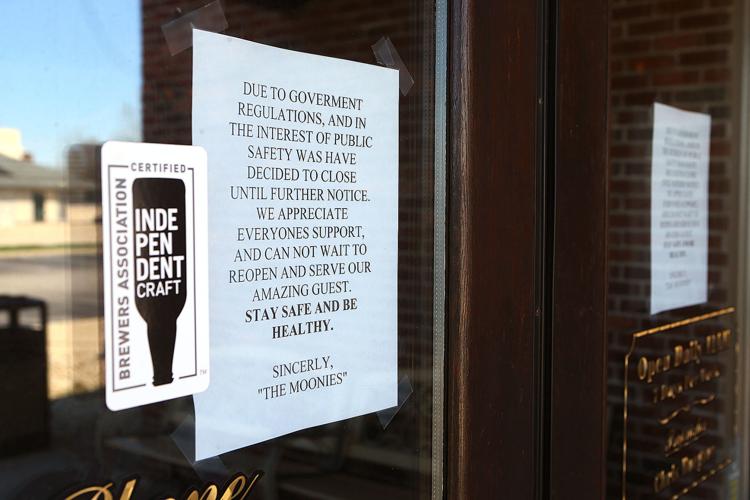 "The thing that makes it tough is we just don't know how long this is going to last," Roegner said "If they said May 1 you can get back to it, then you'd have an idea, but no one knows. We're all living week-by-week, and that makes it tough."
It's the same story at small businesses and restaurants all across Kokomo that have been deemed non-essential by the state, and forced to close or implement customer restrictions during the pandemic.
Mario Glunt, owner of Ned's Corner Pub, said he's laid off around 14 of his employees and is now running the iconic Kokomo eatery by himself, along with the help of one other employee.
"I'm answering phone calls and taking orders and cooking and doing everything, so it's kind of like a new gig for me," he said.
In just two weeks, sales have shrunk by at least half, Glunt said. That led him to apply for a loan through a federal-relief program to help pay for a new walk-in cooler that just clunked out on him that he now can't afford to replace.
Janice Lagzdins, owner of Banner Flower House, said her shop is operating with a skeleton crew just to provide arrangements for funerals. But even with that, the business is set to lose hundreds of thousands of dollars in revenue as the stay-at-home order continues.
But, Lagzdins said, her real concern is what will be left once the shop is finally allowed to reopen. She said her suppliers very well could be put out of business in the coming weeks due to nonexistent purchases from flower shops.
"Their losses are tremendous," she said. "I'm worried for them. We can scale down everything we're doing here, but there are others in our supply chain that are real worries. You can't keep thousands and thousands of flowers for six weeks. This is a horror story for them."
Lagzdins said right now, she's still able to pay all of her 15 workers to keep them off unemployment. But there's no doubt she'll need government assistance to stay alive as the state continues to mandate the closure of nonessential businesses.
"There are no profits here," she said. "We'll have to take advantage of any means out there to make ourselves semi-whole again."
At the Original Treasure Mart antique mall on East Vaile Avenue, the financial pinch of the closure is having a trickle-down effect on over a thousand people.
Erica Cline, who runs the business's social media accounts, said not only does the mall employ around a dozen people; there are also up to 80 vendors who rent space to sell their wares, and over 1,000 consigners who bring their items to the mall and split the profits with Treasure Mart.
None of them are making a dime right now, Cline said.
"You hear about a stay-at-home order, and you might not think much about it, but once you start looking at businesses and all the people it's affecting beyond just direct employees, it's terrible," she said.
Nationally, the coronavirus outbreak has thrown 10 million Americans out of work in just two weeks, marking the swiftest, most stunning collapse the U.S. job market has ever witnessed. Economists warn unemployment could reach levels not seen since the Depression, as the economic damage piles up around the world.
Charlie Sparks, president and CEO of the Greater Kokomo Economic Development Alliance (GKEDA), said the issues facing the city's small businesses are unprecedented, and the stress they feel is compounded by the fact that no one knows when things will get back to normal.
"There's just a tremendous amount of uncertainty," he said. "I think for the most part, businesses are trying to keep a positive attitude, but it's difficult to overcome that uncertainty."
But there is help, and there is hope, Sparks said.
State and federal agencies are offering a range of low-interest loans and financial services to help offset losses. That includes the massive $2.2 trillion bailout package approved last week by Congress which includes $349 billion in loans for small businesses and a $500 billion corporate rescue fund.
On Thursday, GKEDA launched the first in a series of webinars to help local businesses navigate the new programs and loans, including upcoming sessions offering step-by-step instructions on how and when to apply. Dates and times of the webinars will be posted on GKEDA's Facebook page.
"The best thing we can do right now is make businesses aware of these programs and help them access these programs," Sparks said. "If we can take some of the mystery out of this and remove some of those uncertainties, I think that will encourage more businesses to pursue this assistance."
Kokomo Mayor Tyler Moore during Thursday's webinar said the city also plans to unveil some kind of assistance package next week for local business "that may still need help filling in the gaps."
Moore has also named Pritesh Shaw, the city's development specialist, as an in-house contact for any small business with questions on assistance programs or loans.
Half Moon's Roegner said he's meeting with his accountant to find the best programs that will help his restaurant weather the financial storm created by the virus.
He said there's no doubt the looming recession that is sure to linger for months, if not longer, will put long-term financial pressure on his business.
But in the end, Roegner said, he's alright with that. He said when the pandemic is over and done with, what really matters isn't his bottom line, but the lives of his friends, family and customers.
"Ultimately, I think about the health of everyone," he said. "As long as all my friends and family get out of this alive, we'll dig back out. The alternative is that we're all outside and this virus spreads like wildfire and our hospitals are overrun and the death rates are crazy. You have to ask: how much is life worth?"
The Associated Press contributed to this story.