In a lot of ways 2018 was a continuation of seeds planted in the region years ago.
Downtown continued to be a priority, IUK's continued growing and Markland Mall's expansion all helped local leaders tout the county as one with a bright future.
Old issues continued in 2018, though. While deaths caused by drug overdoses are decreasing, the area's drug world was in full show when Operation Law and Order saw the arrests of local and some non-local people in charge of an alleged drug ring.
With all the big news that happened this year, there's bound to be more in 2019. But before we enter the new year here's what everyone was talking about in 2018:
Hotel and conference center revealed
It was called the worst kept secret in Kokomo.
In July, it became official.
A six-story, 123-room Hilton Garden Inn and an adjoining 22,000-square-foot conference center, representing a $26 million investment, is coming to downtown Kokomo.
The worst kept secret in Kokomo is officially out of the bag.
The announcement was made in crowded City Hall council chambers on July 10 by a mix of city, county, economic and development officials, who expect the much-anticipated project to open in spring 2020 in the block between Main and Union streets, bordered by Superior Street to the north and Wildcat Creek to the south.
The extensive development, set to dominate downtown Kokomo's skyline for years to come, will further bolster an area that has in recent years sprouted Kokomo Municipal Stadium, a luxury apartment community, increased trail access and nightlife opportunities, popular Geek Street shopping and more.
Included in the project will be a new 22,000-square-foot home for the Kokomo Automotive Museum, which vacated its two-decade site in the Kokomo Event and Conference Center in May.
"This hotel and conference center will allow Kokomo to compete in attracting new visitors, conferences and events, while at the same time providing a fresh, new facility for those that already know the value of holding their event in Kokomo," said Kokomo Mayor Greg Goodnight.
"This downtown development distinguishes Kokomo from most other Midwestern cities with its proximity to other recent developments like Municipal Stadium and 306 Riverfront District."
Operation Law and Order cracks down
What could have easily read as the plot of a Hollywood action movie unfolded in reality locally as a tip from a citizen set in motion an investigation culminating in what local law enforcement called the biggest drug operation ever to be conducted in Howard County.
In the early morning hours of May 1, around 130 local and federal law enforcement officers conducted multiple raids, executing warrants at 13 locations across Kokomo and Macon, Georgia, dismantling an alleged drug and firearms ring with ties to criminal activity in Georgia.
That action followed a multi-agency, four-month-long investigation involving wiretaps and remote cameras.
Officers ultimately seized more than 17 pounds of meth, 2 pounds of cocaine, 2 ounces of heroin, 122 grams of Fentanyl, 6 ounces of marijuana, two money counters, 12 vehicles, $37,000 in drug money and 24 firearms – including a sniper rifle and two assault rifles on May 1.
During a press conference held at City Hall the next day, U.S. Attorney Josh Minkler outlined the structure of the alleged drug ring – which he referred to as a "violent drug trafficking organization."
The head of the local drug ring, 41-year-old Reggie Balentine, allegedly obtained drugs from 50-year-old Pierre Riley – a supplier from Georgia – and distributed them throughout the Kokomo area.
The overarching investigation, which has continued with Operation Law and Order Part 2 and the arrests of dozens of meth users and dealers, even stretches into the western United States, where at least one distributor has been arrested in Las Vegas.
Markland Mall undergoes major expansion
As malls across the country struggled to keep the doors open this year, Markland Mall bucked the national trend and reinvented itself with a slew of new businesses and a massive expansion that includes seven new stores.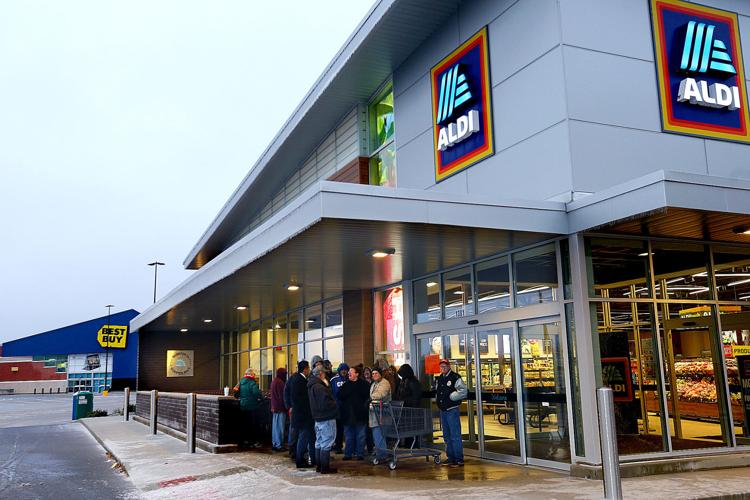 The mall seemed to be on a path towards shuttering with Sears closing in 2017. But the demolition of long-time store that was one of the original tenets of the mall made way for a new redevelopment project that brought even more commerce to the facility.
By November, five news businesses had opened in the new development, including PetSmart, OshKosh B'gosh, Carter's and Prodigy Bar & Grill. Party City and Ross Dress for Less are also slated to open there.
The biggest addition to the mall was a new Aldi supermarket, which built an upgraded and improved store less than a mile from its former location on Ind. 931. The grocery store features high, open ceilings that allow natural light inside, and there's more storage for fresh produce, dairy and meat.
One of the most anticipated new businesses at the mall was Gravity Trampoline Park, which opened in April inside the space that formerly housed MC Sports. The center includes plenty of trampoline space, obstacles, foam pits, a climbing walls and a full-service kitchen.
Markland Mall and Plaza General Manager James Radabaugh said all the new development is about adapting to a shifting consumer market and giving the people what they want.
"The status quo from the '80s to the 2000s was: This is the shoe. Everybody wear it," he said. "But as things changed – you've got to be willing to jump on that change bandwagon."
10-year-old girl killed in hit and run
Tragedy struck Kokomo on Aug. 9, when 10-year-old Renay Jenkins was killed in a hit and run accident on Alto Road.
Josh Cochran, the driver of a vehicle that hit and killed Jenkins, was high on marijuana at the time of the fatal accident, according to court documents released later that same week.
A probable cause affidavit detailing the incident and subsequent arrest tells the story of an unremorseful and myopic Cochran who smelled strongly of marijuana, grousing to police with slow and slurred speech about how "stupid" his situation had become, wondering when he could go home.
Cochran, 20, faces charges of leaving the scene of an accident, a Level 3 felony; causing death when operating a motor vehicle with a schedule one or two controlled substance in the blood and leaving the scene of an accident resulting in death, both Level 5 felonies; and a misdemeanor possession of marijuana count.
In late August, Howard Superior Court II Judge Brant Parry denied Cochran's request for a bond reduction, citing the severity of the crime. On Dec. 3, Parry denied Cochran's motion for change of venue, disagreeing with defense attorney Stephanie Doran's argument the Howard County community was biased and prejudiced against Cochran to the point he could not obtain a fair trial.
Cochran is now slated to appear in Superior Court II for a pre-trial conference on Feb. 5, 2019, followed by a jury trial on Feb. 26.
Opioid crisis continues
In January, we learned that 44 Howard County residents lost their lives to overdoses in 2017, capping a harrowing year in the fight against an ongoing and strengthening opioid crisis.
That figure made 2017 by far the deadliest year for overdoses in Howard County history, surpassing the previous high of 34 in 2015.
Nearly one in five babies born in Howard County this year were exposed to drugs while in the…
While fatalities have dropped in 2018 – through the first three quarters there were 26 overdose deaths in the county – the drug epidemic has maintained its place at the forefront of the local conversation.
One major response to open this year was Turning Point, Howard County's Systems of Care program. The most comprehensive reaction yet to the crisis kicked off in late April to what one official described as phones ringing "off the hook."
The first patient, a recovering addict, was connected during a meeting with six different resources and scheduled for follow-up appointments – kicking off an inclusive approach nurtured since fall 2017.
Meanwhile, Howard County filed a civil lawsuit in early 2018 against opioid manufacturers and distributors, alleging they are to blame for the deadly, ongoing drug crisis on a national, state and local level.
But even as responses mount – including the opening or development of various treatment centers – the problem continues to overwhelm.
The most shocking and distressing fact to emerge came when the United Way of Howard County revealed that nearly one in five babies born in Howard County this year were exposed to drugs while in the womb.
It's an appalling statistic, likely encompassing more than 150 infants, that underscores the vicious impact of an epidemic already threatening the youngest generation. 
Furthermore, many in Howard County are worried the drug crisis' lasting consequences stretch well beyond infant health, permeating developing brains through physical, mental and emotional trauma in ways that will keep the epidemic raging for decades to come.
Woman arrested for leaving racist letter
Deborah Cantwell, a 63-year-old Greentown woman, was arrested on Oct. 25 and charged with misdemeanor counts of intimidation and criminal mischief after investigators say she left a racist letter aimed at a black child on the door of her neighbors' recently-purchased home.
The story drew international media attention, with major news outlets reporting on the incident. It was the most read story on the Kokomo Tribune's website in 2018.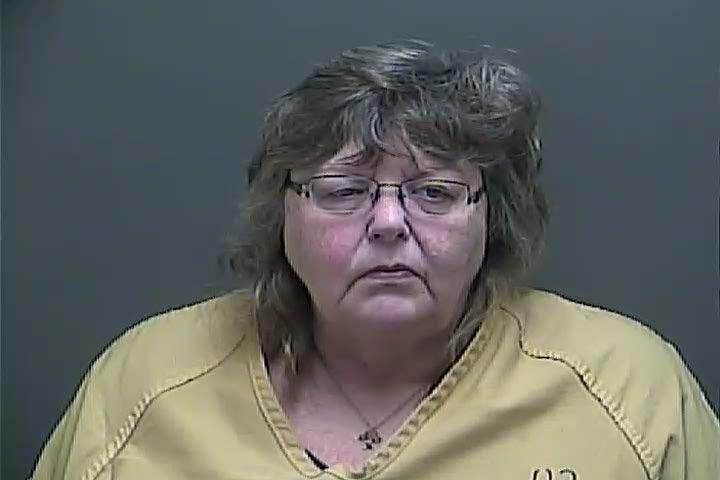 Deputies started investigating the incident at 1:13 a.m. Oct. 13, when the husband and father of the family contacted a Howard County sheriff's deputy, reporting that his family's Greentown home had been toilet-papered and a racist letter attached to the door.
"No N---- wanted in this neighborhood-THIS IS A WHITE NEIGHBORHOOD-some people find N-----Stressful," Cantwell wrote in the letter, capitalizing the racist insult, according to a probable-cause affidavit.
On Oct. 15, the father informed law enforcement that he suspected Cantwell was responsible for the incident. He was previously told by the home's seller that Cantwell was opposed to the family moving into the neighborhood because of their black son, police said.
In an Oct. 18 interview, Cantwell admitted to writing the letter out of anger and toilet-papering the yard, justifying her actions by referencing past incidents that she said caused her family harm.
In response to the incident, a group of Greentown residents dropped off a basket with more than 60 cards welcoming the family to the town, as well as gifts from local businesses.
Work release opens
After years of spats and controversy, Howard County finally got its work release center.
In January, the work release center, housed in the former county jail on Berkley Road accepted its first two inmates. The program started, and is currently operated, as male-only, with 80 beds.
Howard County's jail population, despite local efforts to lower the number of inmates, has m…
Local officials hope to also open a female pod, although a firm timeline has not been established.
"It's a viable option for individuals in our community and for them to make that transition back into our community, and an opportunity to support themselves and their families," said Howard County Commissioner Paul Wyman upon the center's opening.
And while overpopulation at the Howard County Jail has persisted, the work release program has had a positive effect, say jail officials.
"I think it's helped, because the people that are down at work release right now would be in our jail," remarked jail commander Robin Byers in July.
Meanwhile, improvements to the program and its operations have proved necessary, including adjustments to what crimes are on the exclusion list and a policy change on how escapees are reported.
But local officials are hopeful the work release center will combine with a recent courthouse overhaul and the potential for a magistrate judge – General Assembly approval is still needed – to create reasonable jail figures and a benefited population of at-risk residents.
IUK continues growth
It was a big year for Indiana University Kokomo.
Most notably, IUK is defying the odds. That's because the campus is growing – and growing faster than any other regional IU campus in the state.
Indiana University Kokomo is defying the odds. That's because the campus is growing – and gr…
Over the last two years, for instance, the university had record-setting graduating classes, with 658 students receiving diplomas last school year. Today, IUK has 130 faculty and 3,100 students.
In conjunction with enrollment growth has been a boom in housing around the campus and an expansion of the university's athletic offerings – including a baseball team that had its first season in 2018, playing home games downtown at Kokomo Municipal Stadium.
It will also be the home of the school's new women's soccer team, which is coming in the fall of 2019 and will be IUK's 12th sport.
Also announced this year, was three-story, 125-bed housing complex built at the southeast corner of South Lafountain and Boulevard streets.
The apartments, which are expected to open in summer 2019, are privately-owned and not directly affiliated with IUK, although the school's growth motivated developers to build net to the university.
Then, in early December, school officials broke ground on the campus' incoming Student Activities and Events Center. The project, set to be located southeast of Hunt Hall at the eastern edge of campus, will be a single-level building with a three-story-high assembly space and gymnasium, according to the university.
It will include athletic offices, training and locker facilities, a lobby and reception area, classroom and meeting room and a ticket area with concessions.
In total, the roughly 26,000-square-foot, $8.5 million center will accommodate 1,000 to 1,200 fans for sporting events. IUK officials expect construction to be completed in fall 2020, which will fall within the celebration of IU's Bicentennial and IUK's Diamond Jubilee, or 75th anniversary
VA clinic opens in Kokomo
Kokomo got its own part-time Veterans Affairs clinic in February as part of a first-of-its-kind pilot program established by the VA Northern Indiana Health Care System, which also oversees the Peru outpatient clinic.
The VA outpatient facility opened inside the current city-county clinic at 620 N. Bell St. after the Howard County Military Foundation worked closely with city, county and state officials for about a year to bring the VA pilot program to Kokomo.
The project was first spearheaded by retired Maj. Gen. David Harris, who had pushed VA officials to create the clinic before his unexpected death on Aug. 2. The Military Foundation has since created a scholarship fund in his honor.
VA officials initially projected in 2017 it could take three to five years for a VA facility to come to Kokomo. Howard County Commissioner Paul Wyman said the fact the clinic was up and running in less than a year since it was first proposed is a testament to all the organizations and people who worked to make it a reality.
However, the clinic came under fire from some local veterans, who said the facility wasn't providing enough services and patients were being discouraged from going there when calling to schedule appointments.
In response, U.S. Sen. Joe Donnelly wrote a letter to the VA Northern Indiana Health Care System director asking him to "investigate and address these issues, consistent with U.S. law and agency policy."
We Care Park featured on national television
The 24th anniversary season for We Care Park proved to be a busy one, after the park was featured in an episode of ABC's "The Great Christmas Light Fight" on Dec. 3.
Kokomo's beloved park was only the first of four total "heavyweight" displays in the episode. The next location was Weirsdale, Florida, where the Cottom family operates a 50-arce farm. The acreage is transformed every year to showcase gigantic lighted figurines, including parachuting reindeer. Despite the massive area, the display appeared to be a bit sparse compared to We Care Park.
Next came Patti's 1800s Settlement in Grand Rivers, Kentucky. The settlement had several historical buildings decorated for an "old fashioned Christmas," complete with a live nativity scene and lighted water wheel.
The last stop in the episode was Clifton, Ohio, where the Clifton Mill decorated an expansive property with 4 million lights. The mill had a creek with steep embankments, which were lit up with overwhelming red lights. The mill also included a covered bridge that had lights synchronized with music.
"If I had to pick one to beat us, it'd be them," said We Care Park owner Mike Wyant. "They have done an amazing job."
And of course, Wyant's prediction came true.
"We're still winners in Kokomo's hearts — we're still winners in Indiana's hearts," he said. "What this money goes towards makes me feel good to help somebody because I know in my lifetime they helped us."