For more than two years, LeeAnn Harris has been swinging hammers, cutting lumber, installing insulation and doing all kinds of other work to help build new homes for local residents as part of Habitat for Humanity of Kokomo.
But on Saturday, the 38-year-old Kokomo native wasn't swinging a hammer for someone else. She was working to build her own new Habitat home located on North Locke Street.
And she was joined by the largest group of volunteers the organization has had in well over a year, including members of the Kokomo Police Department, who were all there to help turn Harris' dream of homeownership into a reality.
"It's just exciting," she said. "I never thought I could be a homeowner. I didn't know if I could ever afford it. But since getting in this program, it's definitely made it possible."
Saturday didn't just kick off construction of Harris' new house. Leanne Fogg, Habitat's local administrative assistant, said it also kicked off the nonprofit's return to normal operations after a year of struggling to complete builds during the coronavirus pandemic.
Fogg said they normally complete about two houses ever year. But last year, with social distancing guidelines, it was hard to get volunteers. Instead of two homes, it took over a year to build just one.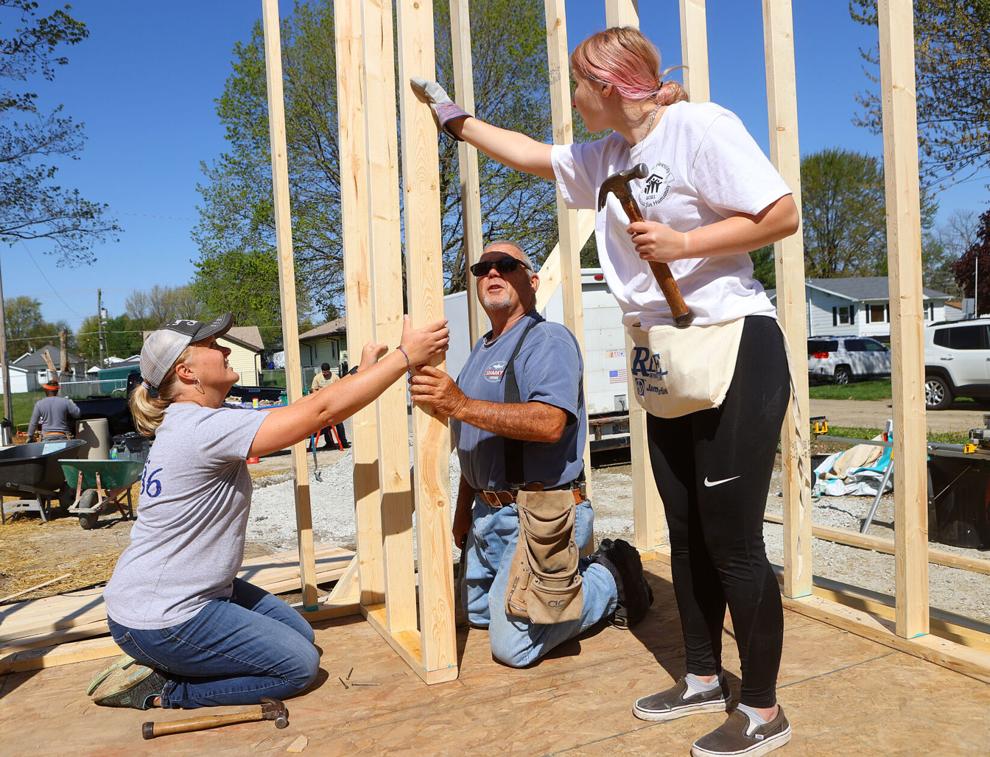 But Saturday was a totally different story. Around 35 volunteers arrived at the site around 9 a.m. Within two hours, the entire house was framed, and work had already started on putting up the side paneling.
Kokomo Police Chief Doug Stout was there to lend a hand after Fogg reached out to the department to see if any officers were interested in volunteering. Stout said it was the first Habitat house he's ever worked on, and he was surprised how quickly it came together.
"It's nice to see a house start out flat and then see it rise up, and it's not even lunch time yet," he said.
But more than anything, Stout said, it felt good to come out as a regular citizen and help someone in the community.
"It's nice to be able to give something back like this and get out and bond and meet new people and help a family who is in need of a house," he said.
Harris said it was overwhelming to see so many people show up Saturday to kick off construction of her new 1,100-square-foot house, which includes three bedrooms, two bathrooms and porches in the front and back.
Now, she's looking forward to the day she can move in with her 13-year-old daughter to start a new chapter in their lives.
Harris said she decided to apply for a Habitat home to provide her daughter with a safer place to live. She spent years tracking down an available lot to build the home, and she knew she found the right spot when she came across the property on North Locke Street.
"There weren't many lots in decent areas, and this is a good area," Harris said. "I want this house to help us live a better life. We're just looking for a better life that's safer."
Now, she's moving back to the same neighborhood where she grew up. Harris went to Bon Air Elementary when she was younger, and the house is located just a few blocks from the school.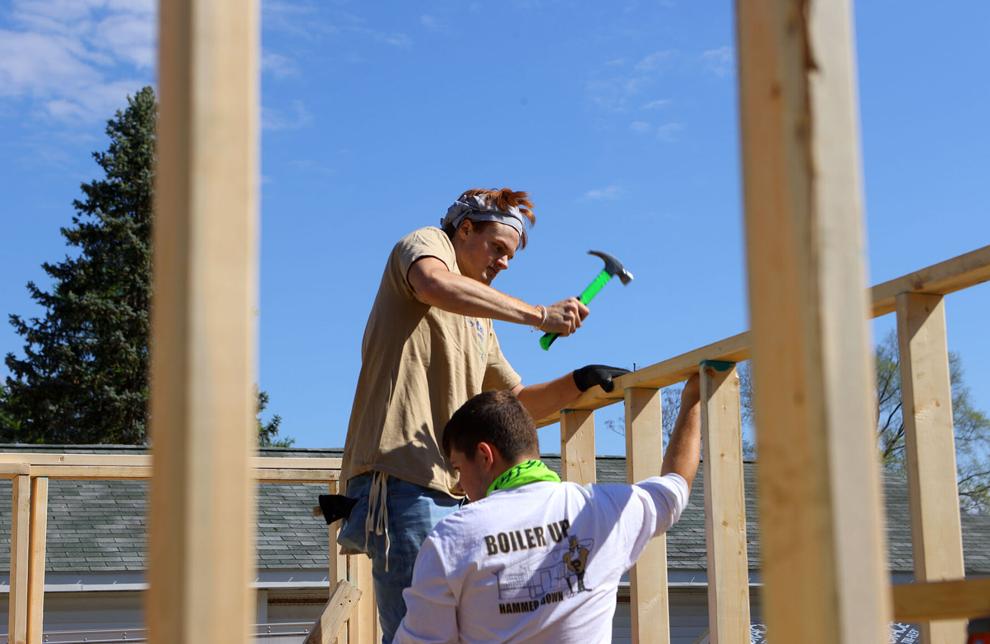 And after spending years helping build Habitat houses, Harris said, she feels more prepared than she ever thought she would to be a resourceful, responsible homeowner.
"Now I can just do about anything," she said with laugh. "If some issues comes up with my house, I'll know how to fix it. It's exciting."
And it was exciting to see so many volunteers show up after a hard year for Habitat for Humanity, said Fogg.
"This is the first time we've had this many people on a build in well over a year," she said.
Fogg said the organization wants to keep that momentum going as they start back on their normal schedule of building two houses a year. And with five people already on the waiting list for a new home, there will be plenty of work to do for a long time, she said.
That list will only get longer after the nonprofit restarted the application process to get a new home. A freeze was put on applications during the pandemic due to the volunteer shortage.
Fogg said that means there will be a need for more volunteers far into the future, and encouraged anyone interested to sign up and give it a try.
"If people want to volunteer, we will take it and make it happen" she said. "Many hands make light work."
Anyone interested in volunteering can call 765-452-2185, or just show up during a workday to fill out a waiver. Details on projects, dates and times can be found on Habitat for Humanity of Kokomo's Facebook page.