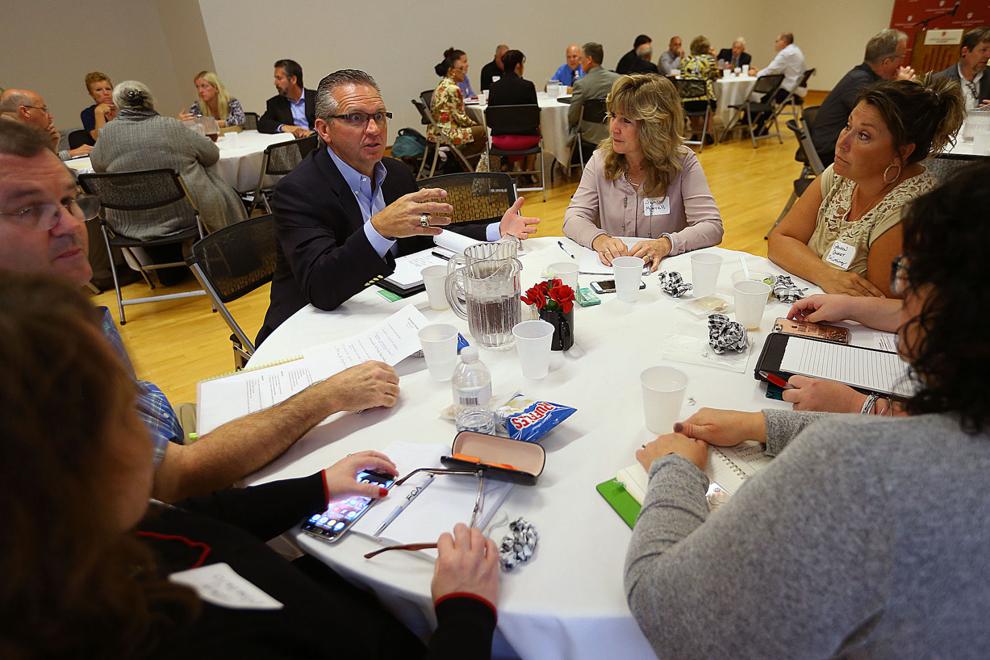 Editor's note: This is the final part of a six-part series on the drug crisis in our community. For a look at the complete series, including videos and more, visit kokomotribune.com.
Last year was expected to be a record year for drug overdoses long before it came to a close. Ultimately, 44 local residents would die of overdoses in 2017, nearly a quarter more than the second highest year in Howard County history.
Now, city and county officials desperately seek a solution, looking for help wherever it can be found: faith-based practices, mental health solutions, youth education, family support, addiction treatment facilities and more.
That broad, sweeping approach – known locally by the state-provided moniker Systems of Care (SOC) – has been met in some circles by immense skepticism that it will simply be a referral service. Howard County already has referral services, they say, and there are proven methods that just need more resources.
But others believe bringing together the community's most influential stakeholders will make a difference in an attempt to tackle the crisis from all directions.
It was during a drug summit in September 2017, one that brought together a room full of officials and residents, that Howard County Coroner Steve Seele expressed dismay at the scope of the strengthening crisis.
"I have to say, I did not expect to have happen what we've had happen in this county starting in January, though I know that we had a problem," said Seele, then in his first year as coroner.
"I don't know what the answer is. I'm lost," he added, "I'm asked that every day."
During that same meeting, in September, which brought together around 65 officials from law enforcement, government, healthcare and more, there were round-table discussions among the attendees, as they identified what they perceived to be priorities in attacking a problem that's plagued every community in the nation.
Then, in November 2017, a crowd filled the auditorium at Inventrek Technology Park to hear Howard County Commissioner Paul Wyman unveil the county's most comprehensive plan of attack on the opioid crisis. It was a direct follow-up to the summit held about a month prior.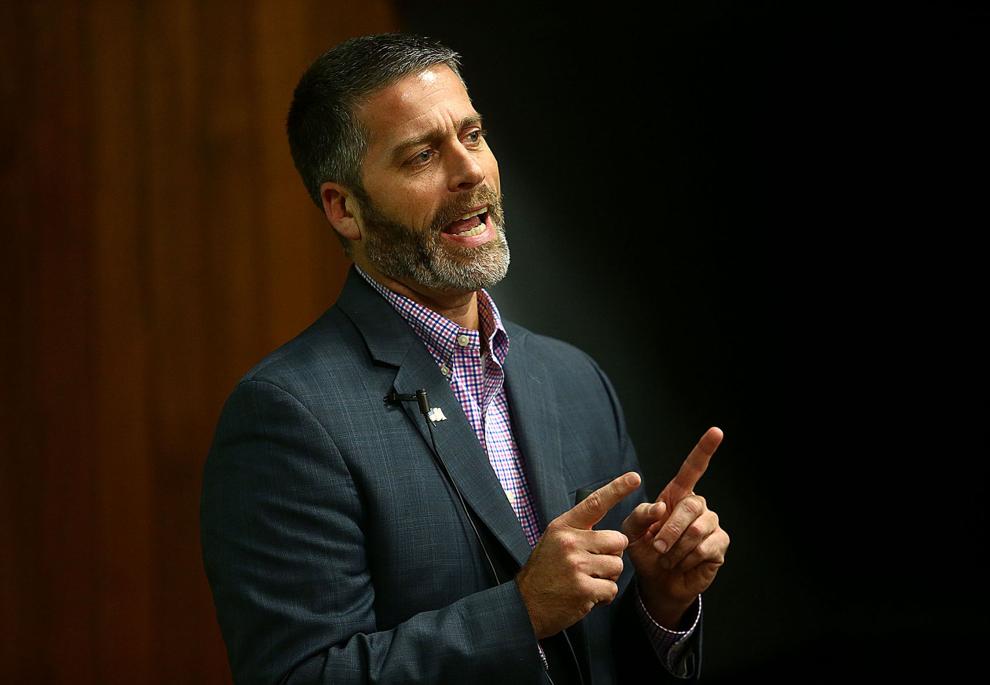 Effectively, SOC is the product of collaboration from local organizations to attack the opioid crisis on multiple fronts, said Wyman. Following the opioid summit, five subcommittees were formed, each focusing on different fronts.
The subcommittees are: Mental Health and Addiction, Youth and Family Peer Support, Prevention, Community Support and Engagement, and Finance Sustainability.
"It's been absolutely incredible to see the amount of people that have been working hard to help combat this opioid crisis in our community," said Wyman, who declined to answer specific questions about SOC's progress, saying updates have been scheduled for a public meeting on Thursday.
Each subcommittee was tasked with a list of long-term and short-term goals, ranging from compiling resource lists to studies gauging the feasibility of opening treatment facilities in Howard County.
Additionally, the subcommittees are working to address certain gaps in services that exist, said Howard County SOC Coordinator Jennifer Johnson.
"It's not that Howard County maybe isn't providing these needs … it's a matter of sometimes people just don't know what that looks like. They don't know where to go … that's the point of SOC. To bring all these agencies and people together to start working together and communicating with one another," she said.
During February's County Council meeting, Wyman announced SOC would start sometime in April in a physical location and discussed the creation of a full-time position to help individuals in need navigate the system and access resources – aptly dubbed "the navigator."
"The goal of the navigator is to help provide access to wrap-around services for the family. So if you have somebody in the family who's suffering from addiction, that takes a tremendous toll on a family, and generally there's other people in the family that are having challenges as they're dealing with the addiction, so those individuals need help as well," said Wyman.
Specifically, Wyman said the goal of the navigator is to address multiple issues stemming from a person's addiction. Addiction had adverse effects on more than just the addict, with one person's actions making waves for individual members of the family. He gave an example – parents may need to seek counseling on how to deal with a child's addiction, all while their child is assisted in receiving treatment options.
Meanwhile, the state provides certain objectives communities are encouraged to address – specifically children and family services – and that's then worked into the local system. While communities are capable of designing an SOC that is relatively customizable, Wyman said also addressing the state's objectives helps secure grant funding.
On the Indiana's government website, SOC is listed as a result of Indiana's goal to "improve the access to and quality of behavioral and mental health services for youth and family." While the state seems to place specific emphasis on mental health services, there is some leeway for local communities to put their own spin on making the program address local problems.
"So from our standpoint right now, obviously with the opioid crisis being on the forefront, we're making sure that our system of care is prepared to help people that are suffering from the opioid crisis," said. Wyman. "But believe me, the opioid crisis springs off many other crises within families and that's what we're doing. That's one of the differences of the approach that we're taking is we're addressing it all the way around."
Citing the public meeting scheduled for Thursday, Wyman declined to provide specifics on the subcommittee's progress and, in connection, the specific benefits the community will see from implementing the program. He said the upcoming meeting will shed light on some of those issues.
SOC critiques
The county's SOC program, its most widely hailed response yet to the opioid crisis, is not without its detractors.
The most prominent among those to doubt the program's efficacy is Howard Superior Court 1 Judge William Menges, who has been at the center of a debate over how to proceed with the county's problem-solving courts, including its drug court, and has become a regular public sparring partner of Wyman's.
"They haven't defined what they are trying to do, other than it's going to cure the opioid problem," he said, sarcastically.
Menges' main critique, he said in an interview, is that SOC will act largely as a duplicative service.
"I have, I guess, lots of conceptual problems. First of all, from the way it's being described, it's going to be nothing more than a referral service. Those services are currently being provided by both the probation department and [2-1-1 United Way of Howard County]," he said.
"The whole thing is being ramrodded into operation without any pre-planning or pre-preparation being done. That creates a potential for huge problems."
The position of Howard County Family Resource Navigator, promoted as the centerpiece of SOC, will work in large part to provide information and make connections to addiction services and healthcare providers for local addicts or family members, according to a job description obtained by the Tribune.
The position's primary goal "is to assist individuals and families in navigating all the available information, programs and services from one location," says the description.
But Menges said there's no need to invest resources in what has colloquially been called The Navigator, as "you could call either 2-1-1 or the probation department right now and be referred to treatment." He also criticized the SOC program's oft-cited annual budget of around $125,000, saying those resources could be utilized within existing functions.
Chery Graham, United Way's 2-1-1 director, clarified that SOC "is in the process of establishing a specialized list of in-depth options specific to the needs to the addiction affected." She said 2-1-1 will possibly use those options in its database, later working with participants in "comprehensive referral work" to also wrap "general community services" around the person.
"This type of approach is more effective than just the specialized approach alone," she said.
Menges, however, also took aim at the program during a Howard County Council meeting in February, when Wyman announced specific details about the program, including its likely location on the third floor of the Family Service Association of Howard County, 618 S. Main St.
The judge cited one national study that he said shows "80 percent of the people who are referred from a Systems of Care to treatment will not complete treatment."
Menges said the county's drug court has proven itself more efficient than what the SOC program will become. Since 2007, the drug court has graduated 45 people; in total, over 90 people have enrolled in the court.
"Research has also shown that the biggest single variable on whether somebody's going to have a life of continued sobriety and recovery is length of time in treatment. We don't have a 100-percent success rate, but at least we get 100 percent of the people through treatment," said Menges, making the case to council members that resources should be invested in problem-solving courts, not SOC.
"We have a proven commodity, a proven successful commodity," Menges added.
In conjunction, Menges expressed skepticism in the recent interview about whether addicts will actually reach out to SOC for help; instead, he believes, people calling The Navigator will be family members struggling with a loved one's addiction.
"My experience dealing with drug addicts is that they don't go wandering around, saying, 'Hey, I really want to go to treatment,'" he said.
"I'm guessing the vast majority of the calls they're going to get are going to be from family members of an addict saying, 'What can we do?' And unfortunately the answer for a lot of family members is, not much."
Instead, Menges advocated an idea sure to make Kokomo officials' eyes roll, saying more arrests would help to solve the opioid epidemic. Arresting drug users, he said, can at least put them in coerced drug treatment.
"We're reducing the size of the police department in Kokomo and yet we're making way more drug arrests. Think how many arrests would be made if they had not decreased the size of the department," he said.
"If you haven't gone through treatment, you don't stand a chance."
But since its unlikely for the Kokomo Police Department to grow significantly in upcoming years, Menges said it's time to consider an approach – or add to existing approaches – outside SOC.
"My initial reaction would be to scrap the whole damn thing and emphasize through PSAs and other community communications the referral services that are available through the probation department," he said.
"We have really good people in the probation department who know what they're doing and are certified to do what they're doing."
Help for addicts, death for dealers?
Randy Obenchain, the executive director of the Fellowship of Hope Club, a local 12-step program group, said Kokomo is in desperate need of a treatment facility.
Obenchain, unlike Menges, also supports the SOC approach, saying the broad technique of bringing together everything from youth mental health services to adult drug treatment can motivate solutions.
"I know there's a lot of hesitation from others on the Systems of Care, but the more we talk with each other in the recovery field, the more we can kind of figure out what's going on with who," he said.
But he is still looking for a specific solution like an inpatient drug treatment facility.
"There needs to be a 28-day, 60-day, 90-day, six-month treatment facility in this area. That is the big argument that I hear," he said, adding that he commends the "small capacity" work being done at places like the Gilead House and St. Vincent Kokomo Trinity House for Behavioral Health.
"The problem is, there's not enough treatment for the people who really need it; it costs too much, the location is too far away. They're dried out, they're detoxed, they're given a few tools. They're told to go to meetings afterward, but there's no follow-up. That, in my opinion, needs to be a necessity."
Most addicts, he said, currently travel to Indianapolis or Lafayette for long-term treatment.
A treatment facility, combined with decreased judgement toward drug users, could create significant change, noted Obenchain, and allow people to stay in Kokomo to get help.
"If we were to have a secondary goal, it's that people could seek help without the fear of stigmatization or retribution. People sometimes silently suffer with their addiction and no one's the wiser. If we could get those two things to happen, you could count me a happy man," he said.
Promoting a similar willingness to support addicts with treatment and incarceration alternatives was Howard County Prosecutor Mark McCann, saying county officials "will continue to help them."
In contrast, though, McCann echoed comments made this year by President Donald Trump in support of executing drug dealers.
Editor's note: This is the third in a six-part series on the local drug epidemic. This week:…
McCann, who said he's lobbied to increase maximum sentences for drug dealers over what was established in the state's most recent criminal reform guidelines, called drug sellers the "dealers of death."
"The dealers of death deserve the most severe punishments under Indiana law," he said.
"Based on certain facts and circumstances … I would not be opposed to a death penalty for drug dealers that are causing death."
In general, McCann said he looks at drug dealers whose drugs directly cause overdose deaths as congruent with someone who commits a murder.
A unique approach
Notably, Howard County's SOC is not based on practices in other communities. In fact, Wyman said the new system is quite unique, calling its representatives "pioneers." When asked if there is data to back up his confidence in the upcoming program, Wyman said he places his confidence rather in the people involved.
He said those people are representatives from across the county involved in mental health and addiction services, as well as law enforcement and officials from the coroner's office and prosecutor's office and officials across the spectrum of education.
"I'm basing the confidence in the system on the number of people and experts from many different organizations that have come to the table to help us do this work, that have contributed to our efforts and have shared ideas and shared visions of what a true system of care could look like in a community if everybody was working together," he said.
"That's probably one of the biggest things I've heard at the many meetings we've had is people across the table from each other saying things like, 'How come we haven't been talking? How come we haven't been working together and sharing resources?' We've been connecting people and organizations over the last five or six months in a huge way."
As these lines of dialogue move officials toward compiling resources or starting new addiction-based initiatives, SOC Coordinator Johnson pointed out that some of the loftier items listed on SOC's strategic plan would take a lot of time and money to bring to fruition.
One of those items is a youth treatment facility, with the wording in the plan tasking the Youth and Family Peer Support subcommittee with determining "feasibility to start a youth specific treatment facility in our community that can be accessed within 24 hours for parents of children suffering with addiction."
Additionally, Johnson said Howard County's SOC personnel are working with schools to form an effective method of teaching drug prevention to students, while still another is a faith-based program constructed in conjunction with area churches.
Wyman also referenced a faith-based addiction program, once again emphasizing a meeting scheduled for Thursday where more specific updates will be made public. Wyman said the effectiveness of such programs – the faith-based and student-based programs – will come through not just talking about it, but following through with action, he said.
While the SOC represents what some officials would call the most all-encompassing discussion on the opioid crisis, it hardly represents the entirety of the official conversation.
Howard County filed a civil lawsuit at the beginning of the year against opioid manufacturers and distributors, alleging they are to blame for the crisis on a national, state and local level.
In November, the Howard County Board of Commissioners announced its intention to join numerous government agencies across the United States, including the city of Kokomo, in filing suit against drug distributors. The county partnered with Indianapolis-based law firm Taft, Stettinius & Hollister in filing the suit.
A 165-page document outlining the county's complaint details the alleged negligent actions of three major drug distributors, AmerisourceBergen Drug Corp., Cardinal Health Inc. and McKesson Corp. Those companies account for 85 percent of the prescription opioid market. About 20 other smaller companies are also named in the lawsuit as defendants.
Predominantly, the document provides an outline on the national level how the actions of these corporations allegedly plunged the nation into a crisis that has been referenced by Trump, Indiana Gov. Eric Holcomb and has been echoed through numerous local meeting rooms and council chambers.
In his 11th State of the City address, Kokomo Mayor Greg Goodnight touched on the epidemic, a crisis he acknowledged exists on a national, state and local level, Goodnight called for collaboration of officials, law enforcement and the community to fight the crisis. He additionally asked that residents acknowledge the problem is far from simple.
"The solutions are not easy," he said. "I'm not going to stand up here and pretend to have all the answers, and you should be leery of anyone who claims to have them."