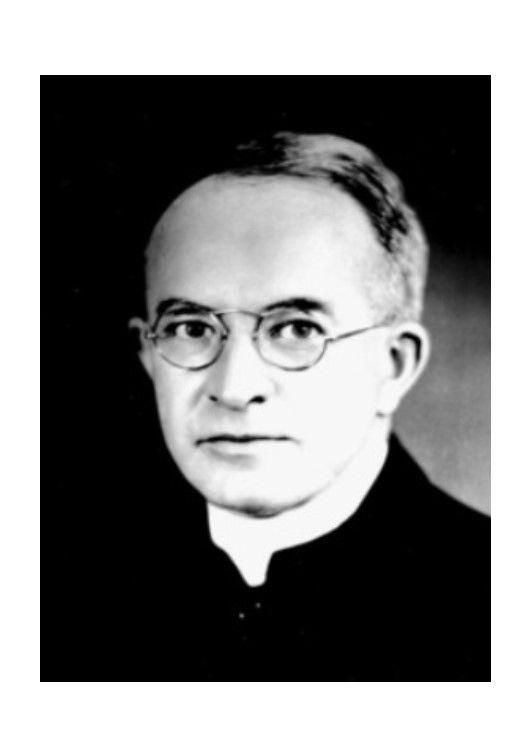 Father Charles L. O'Donnell was the 12th president of the University of Notre Dame. Although he was born in Greenfield, Indiana, on Nov. 15, 1884, his family moved to Kokomo at the time he was about to enter school. He was the youngest of six children.
As a lad, O'Donnell attended St. Patrick Church and was a student at St. Patrick School, under the care of the Sisters of St. Joseph. When it came time for college, he attended the University of Notre Dame starting in the fall of 1902. He studied at Holy Cross Seminary at Notre Dame and was ordained a priest on June 24, 1910.
In 1917, he volunteered to serve as a chaplain for soldiers oversees during World War I. In the summer of 1918 he was assigned as chaplain to the 332nd Infantry and was the first American Catholic chaplain to enter Italy with the U.S. forces. 
After returning to the states, he taught English and served in several leadership positions. In 1928 he was named president of the University of Notre Dame, a position he held unit his death on June 4, 1934, at the age of 49.
During his time as president at the university, he oversaw the building of the Notre Dame Stadium and the law school building as well as the restoration of the Basilica of the Sacred Heart. His helmet from WWI is still hanging on the east door of the basilica. Under his leadership, the enrollment at ND continued to grow and the campus layout expanded.
His parents remained in Kokomo. His father died in 1907 and his mother died in 1924. They are buried in Crown Point Cemetery.