GREENTOWN – The Custer family wasn't home on the evening of April 11, 1965.
Myra was singing at the Meridian Street Christian Church's Palm Sunday community service, while her husband, Max, was busy preparing for the family's move into their new home, painting the walls of the house at 600 East and 100 South. Their daughter, Marla, was at her grandmother's house at 300 East and U.S. 35.
It proved to be the chief reason they escaped the Palm Sunday tornado outbreak unscathed.
The home they rented and were preparing to move out of on Lincoln Street was completely demolished. The front porch of the house, which was 34-inch thick concrete, was moved 30 feet from its original position. The winds were powerful enough to remove the mortar blocks from the foundation of the house. The kitchen stove was recovered two blocks away, and the family piano was never seen again.
---
"We wouldn't have survived if we would've been home."
---
"They always tell you to get in the crawlspace if you don't have a basement, but if we would've been home and gotten in the crawlspace, it wouldn't have helped," Max said. "We wouldn't have survived if we would've been home."
Fifty years later, Myra, now 74, and Max, now 76, have a placard mounted above their kitchen sink which reads "Worry ends where faith begins." Faith seems to be one of the few things that allowed the Custer family to heal from a traumatic time that left them with nothing but the clothes on their backs.
"Without it, I don't know how people got through it really," Max said.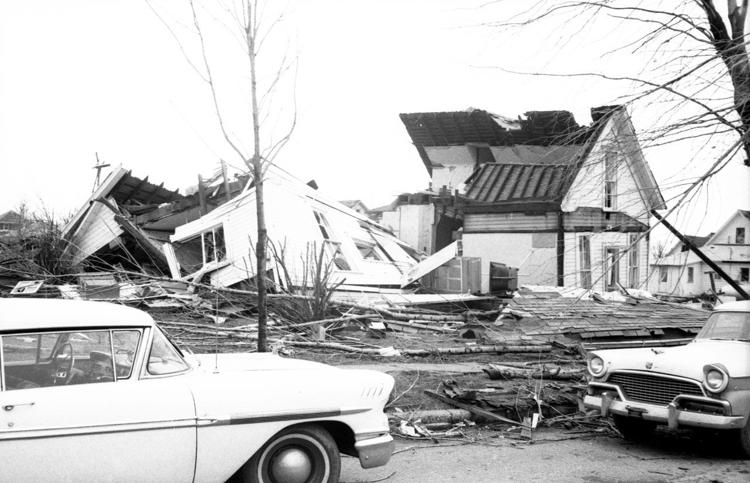 This April 1965 file photo shows a house destroyed in the Palm Sunday tornado outbreak.
Fighting back tears, Myra added, "Probably the most devastating thing was that our friends lost family members. We didn't have anything left, but we were all OK. We were mighty grateful for that. Our lives were spared. Had we been home, we wouldn't be here."
According to newspaper accounts, 10 people were killed and nearly 300 more were injured in Greentown during the Palm Sunday tornado outbreak.
The couple recalled a memory of a house across the street from the high school that was ripped off its foundation. A motorist was picked up and thrown into the basement as the tornado blew through. She was killed.
Greentown was a mess, the couple recalled. Everything in their housing addition on Lincoln Street was gone. Etched in Max's mind are memories of the insurance companies lining up the countless damaged cars on the old high school parking lot.
---
"It looked like a real war zone with car after car sitting there demolished and waiting for wreckers to come and get them and haul them away."
---
"It looked like a real war zone with car after car sitting there demolished and waiting for wreckers to come and get them and haul them away," he said.
The couple and their daughter went to Myra's brother's house to spend the night after surveying the damage. Max got up the next morning and realized he didn't have anything but the clothes he had on the day before. He took a shower and had to put his dirty painting clothes back on. He couldn't brush his teeth because he didn't even own a toothbrush at that point.
"That's when it begins to soak in that you don't have anything," he said. "It didn't really soak in, what had happened, until the next morning. You can replace all that stuff, which we did. We are very grateful for that."
Max worked at the Gro Mor Fertilizer plant in Greentown, and luckily, the plant didn't sustain any damage, so he was able to get back to work the very next day.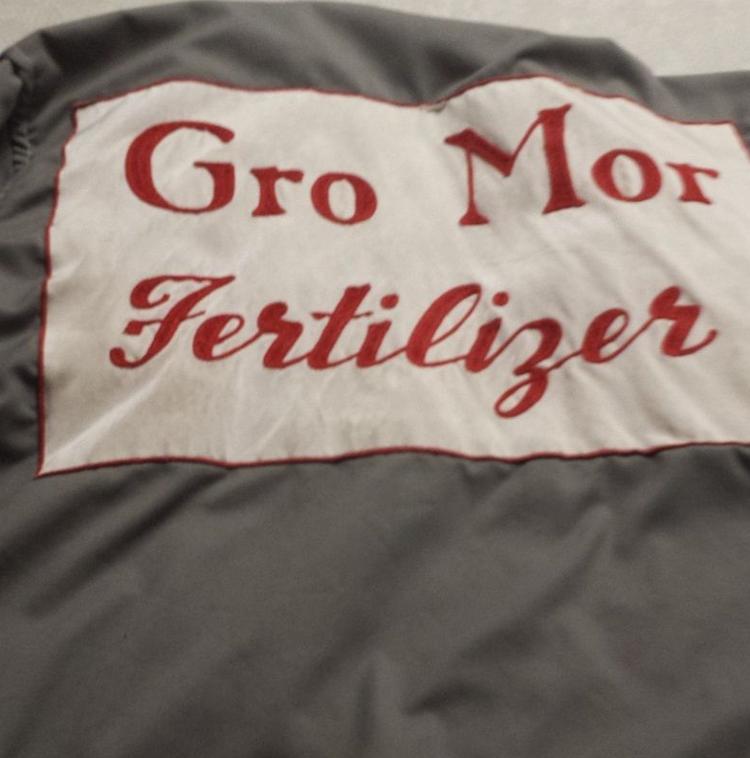 During the tornado outbreak on Pal,m Sunday in April 1965, Max Custer's jacket was taken more than 100 miles to Dayton, OH where it was found by a farmer in a field.
He had a jacket with the name of the company on the back of it at the house that came up missing following the tornado. It was later returned to them after a farmer in Dayton, Ohio, over 100 miles away, found it and sent it back to Greentown.
Myra explained the family received 15 letters from different people in Ohio who found items with the Custers' names on them. Canceled checks and family pictures were returned, as was the report card from Myra's senior year in high school.
"So I told our kids, 'You better get good grades because you never know who's going to see that grade card,'" she said with a laugh.
"That's one of the benefits of being from a small town with a small school," Max added. "When they sent it back to Greentown, they knew at the school that it was [Myra's] maiden name. They knew what her married name was and ended up getting it to us."