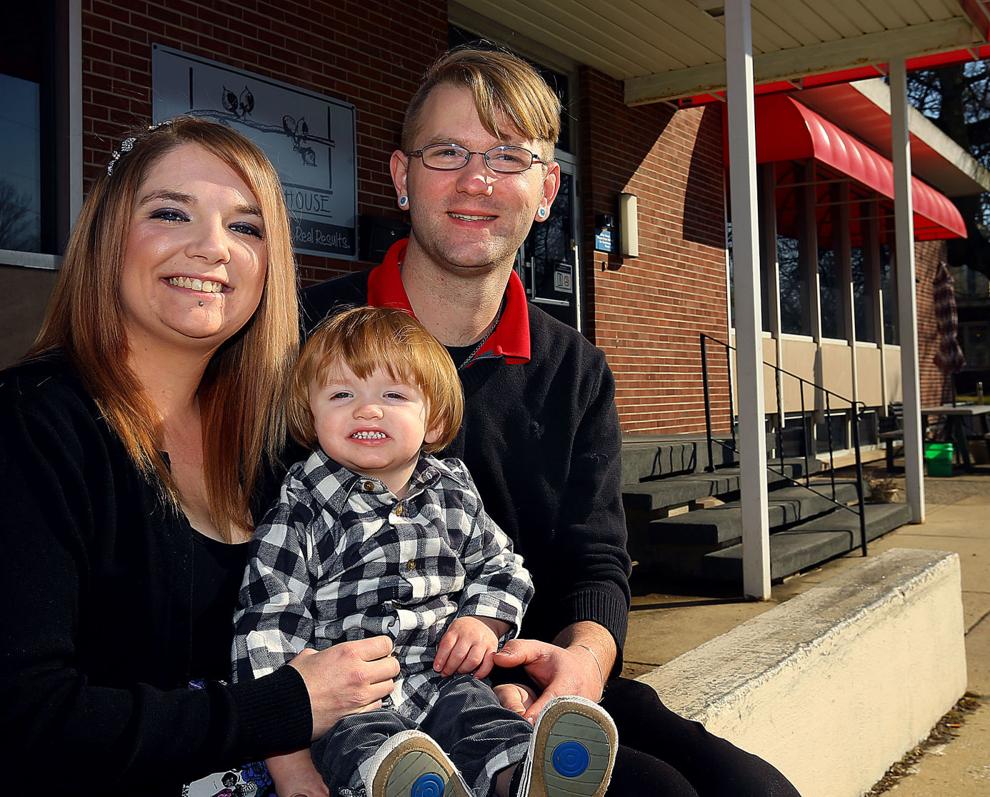 Editor's note: This is the fourth in a six-part series on the drug crisis in the local community. This week: Treating addiction. Next week: Drug court. 
All Courtney Lawson wanted was to be was a mother.
That may have saved her life.
While growing up in Russiaville in a loving family that would go to church four times a week, Lawson might not fit the stereotypical – and false – perception of a heroin addict. But her journey would take her through some deep lows leading up to Aug. 12, 2016 – the date she hopes will forever remain her clean date.
Somewhere around the age of 12 or 13, Lawson started hanging out with some kids who liked to smoke pot and drink. She started dating a boy around that time, but he left her because she was "too innocent." But the fact remained that she was curious about alcohol and drug use, something that was extremely forbidden in her household.
So, she started dabbling. She smoked some pot and did some cocaine, but still had a pretty strict personal rule against alcohol. "I had in my mind that alcohol was bad, that you could be addicted to alcohol."
She started trying other drugs on a recreational level – more cocaine, LSD and psychedelic mushrooms.
In 2012, she got married, and that's about the same time she started getting into opioids.
Lawson said she would swipe pills from a family member who was a pain patient. The pill dependence started to get worse, she said, so she began upping the dose.
"I went from [where] I had to take two a day to I had to take 15 a day to even feel anything," she said.
After about a year and a half of drug use, Lawson overdosed after drinking about a month's worth of a liquid painkiller. It took six doses of Narcan to bring her back – three during the ambulance ride, two more at the hospital and one more just to be safe. At least, that's what she's been told. She doesn't remember anything about it.
The experience drew out a fear, one deeply tied to her Christian upbringing.
"I grew up in a very Christian home, and I've heard near-death stories before where people see like this light and this beautiful thing, and I didn't see that, and it scared me. And I thought, 'Well, God's not real. God doesn't care about me.' So I continued deeper into the drugs, and that's when I started using heroin."
Heroin plunged her into a new, darker level. She was stealing to buy pills or heroin. She was lying to her husband and clearing out their bank account. She stole from her parents. She started drinking.
"I could drink a gallon of vodka a night," she said, adding that drinking made her violent, and she hit her husband multiple times.
She was arrested on a misdemeanor theft charge, and was sentenced to probation. Another time, she was arrested for criminal mischief after throwing a rock at her grandma's window while intoxicated.
"When I got a warrant for the theft, I was in jail for about two and half, three weeks, and while I was in there, every single person I came into contact with, they may have been there for a different charge, but they were in there because of drugs."
For her, stealing and the petty crimes were a desperate ploy to ward off the ever-approaching withdrawal symptoms – something she described as the "one of the worst feelings I've experienced in my life."
She tried multiple times to beat the habit, and relapsed each time after several attempts at permanent recovery.
"Recovery is something where you have to wake up and live and breathe recovery, or you're not going to get it," she said.
So what was the last straw?
After yet another relapse, Lawson had been doing heroin for about eight days. She was 5 1/2 months pregnant at the time.
"I was sitting on the floor in a Speedway bathroom shooting up, and I got up and I looked at myself in the mirror. Here I am, pregnant. I just got out of jail, and I'm going to lose this baby. The five years of me and my husband being married, that's all I wanted. I wanted to be a mother. And God had finally blessed me with a child, and I was going to let my drug addiction take this child away from me.
"And that was really like my spiritual awakening, was if I don't get my [expletive] together, I'm going to lose my child. I'm going to go back to jail. Everything – I'm gonna lose my family, and I'm gonna end up either going to prison or I'm going to die."
Lawson went back into recovery at St. Vincent Kokomo's Trinity House. She was in group counseling at the time, and also says that counseling and recovery will be a lifelong endeavor for her, saying that drugs will be the "first thing she runs back to" if she doesn't take care of her mental health.
"A lot of girls in there, including myself, have been sexually assaulted, and drugs numb that pain. A lot of guys in there had fathers who beat them," she said.
"I don't very often see someone come into the group setting and say, 'My life has just been peachy, and I decided to pick up drugs.'"
About three months after her clean date, her son Sterling was born, and he was healthy.