Carroll, Kokomo and Lewis Cass reached the halfway point of the football season as the last unbeaten teams in the KT area.
They share more in common than their 5-0 records, they reflect the on-field background and lineage of their coaches.
All three feature rock-solid defenses. Class 2A No. 7-ranked Cass is holding opponents to 6.8 points per game, which is tied for ninth in the state regardless of class. Class 4A No. 7 Kokomo ranks 16th with an 8.6 defensive average and Class A No. 6 Carroll ranks 18th with a 9.2 average.
The similarities continue on the other side of the ball where all three teams attack with run-heavy offenses. Kokomo is averaging 326.6 rushing yards per game, Carroll is gaining 326.4 and Cass is producing 210.2.
In addition, all three are led by newer coaches. Kokomo's Austin Colby, 30, and Cass' Clayton Mannering, 34, are both in their third seasons coaching their alma maters and Carroll's Blake Betzner, 41, is in his second season in Flora.
And all three coaches are assisted by Hall of Fame coaches. More on that later.
The following are looks at the three teams.
KOKOMO
Colby loves what he is seeing from his defense. The Kats are holding opponents to 2 yards per carry.
"They've obviously done a good job against the run and we've done a good job against the pass too. We're playing as a unit, which is something we preach all week in practice," said Colby, who led Kokomo in tackles in 2009 and 2010 as a hole-plugging safety during his playing days.
Inside linebacker Shayne Spear leads the team in tackles with 23, safety Reis Beard has 21, outside linebacker Tracy Dowling has 20 tackles, seven tackles for loss and three sacks, safety Keegan Name has 20 tackles and two interceptions and outside 'backer Dre Kirby has 19 tackles and two picks.
Colby said the Kats spend a lot of time in practice on defense.
"When it comes time to win in the tournament and win big games, if you don't have a good defense, you're going to be out of luck," he said.
Colby pointed to the Kats' offensive line as another key to the 5-0 start.
"We knew with that group, there was going to be a lot of guys coming back and we were going to lean heavily on them to run the ball — and boy, we have run the ball well," he said.
Chance Duncan is the center, Kadin Dempsey and Camden Horner are the guards, Dakota Gunter and Charley Groves are the tackles and John Curl and Andrew Barker are the ends.
"All seven of them are such selfless players," Colby said.
CASS
At 5-0, the Kings already have matched their win totals from the 2020 and '21 seasons combined.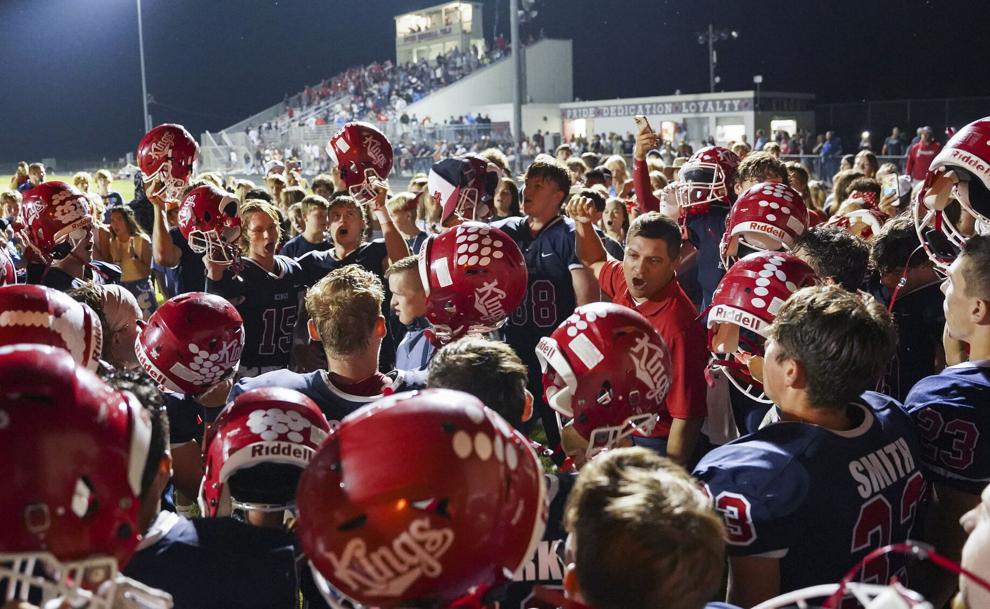 The Cass coach is a former inside linebacker, where he teamed with Kyle Murphy, who is now his defensive coordinator. Mannering pointed to defense as the biggest catalyst to the hot start. The Kings have not allowed more than 14 points in a game and they have recorded two shutouts.
That is a big change from the last two seasons when the Kings allowed 31.6 points per game.
"We knew we returned a lot of players, almost everybody on defense, so we thought we would be better. But what I didn't see coming was a group that's just a lot more physical than we were a year ago. They're doing a great job," Mannering said.
Mannering pointed to senior tackle Luke Chambers as an example of the Kings' growth.
"He is a three-year starter. As a sophomore, he was not quite ready. As a junior, he was better. Now as a senior, he's just a physical force. He's probably 6-5 and 235 pounds. He can change the line of scrimmage and make plays," Mannering said. "He's a mismatch on both sides of the ball. At tight end on offense, he kind of makes our offense go, and [defensively] we are not giving up a lot of rushing yards and he's a big key for that."
Chambers has three sacks and three tackles for loss.
Outside linebacker Cooper Frey (team-high 23 tackles), middle linebackers Haden McClain and Eli Martin (21 tackles apiece) and cornerback Tyson Good also factor heavily into the defense's success. Good has an area-best four interceptions and the Kings have 11 picks as a team.
"Tyson Good has been lights out so teams have gone to the other side against Dalton Lowe and he's doing a good job," Mannering said.
CARROLL
The Cougars went 9-4 and won their first sectional title since 2003 last season with Betzner as a rookie coach.
Following the season, he set a goal to improve the team's physicality.
"That was No. 1 on my list when we started watching last year's film and just seeing the strength numbers in the weight room," he said. "The kids played hard last year, the strength numbers just weren't there yet. They worked hard at it for a year and now their strength numbers are a lot better and they're still playing hard."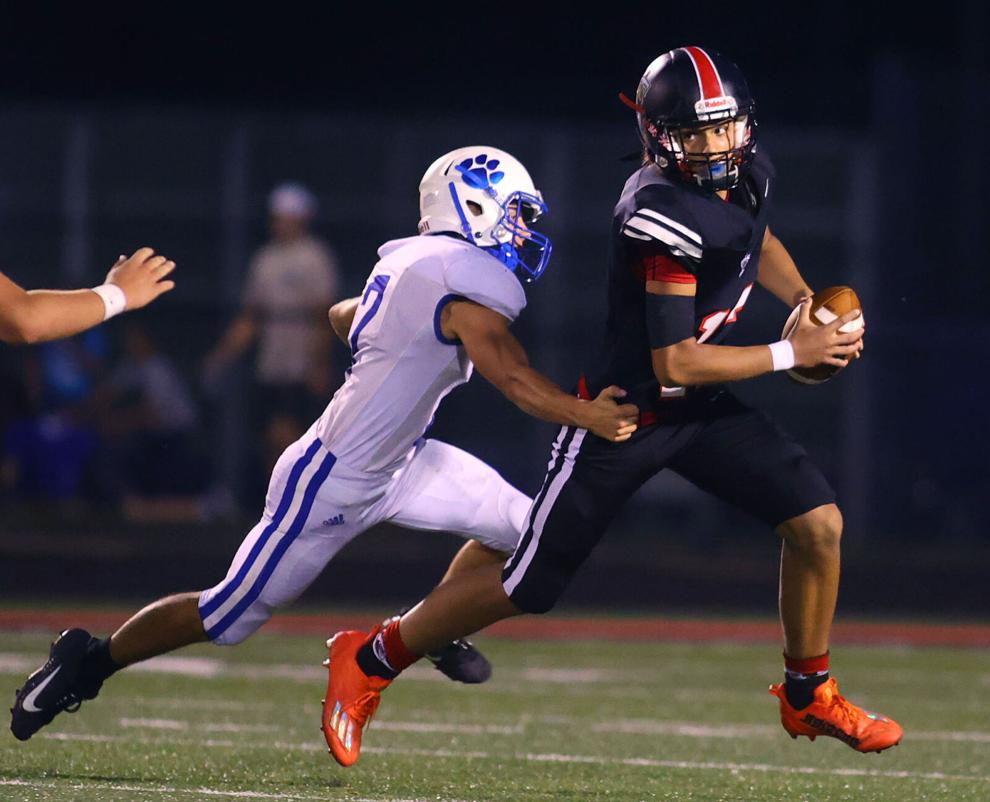 Betzner pointed to inside linebacker Michael Carey and center Cole Trent as examples of the change in the program. Both played sparingly in 2021, but both hit the weight room hard in the offseason. They have emerged as key players in 2022.
"That's what kids understand: You put one really good year in and buy in, you can do a lot of things as a 16-, 17-, 18-year-old kid," said Betzner, who was a linebacker and offensive lineman as a player for Maconaquah.
Carey is second on the team in tackles (31) and tackles for loss (5) and first in sacks (2.5). Griffin Viney (40 tackles), Tanner Turnpaugh (27), Cohen Ayres (21) and Grady Lytle (20) also are fueling the defense's success. Lytle also has two interceptions.
The improved physicality has carried over to the offense where the Cougars now "want to run through people instead of around people" in Betzner's wing-T attack. Before Betzner, the Cougars ran a spread offense.
The Cougars are coming off a 42-14 victory over Eastern, a team that had pushed the Cougars around in recent seasons.
"The kids believe they're going to win and they do everything they can to accomplish that," Betzner said.
FAMILY CONNECTIONS
Colby, Mannering and Betzner are following in familiar footsteps as coaches.
Colby and Mannering played for their fathers in high school — and Hall of Fame coaches Brett Colby and Scott Mannering are now assisting their sons. Brett Colby is the Kats' offensive coordinator and O-line coach and Scott Mannering works with the Kings' running backs.
Betzner is assisted by his father-in-law, John Hendryx. The Hall of Fame coach had a long run of success at Carroll, Northwestern, Knox and Winamac.
"Having that help is invaluable and I've said that forever," Austin Colby said. "There's no doubt [the Kats] wouldn't be as successful as we are without it and I think all three of us would say the same thing. We all three wouldn't be as successful as we are without that experience on our staff, for sure."
Betzner is thankful Hendryx joined his staff this year. Hendryx is running the offense, which freed up Betzner to go back to concentrating on defense. Betzner was previously a defensive coordinator for Hendryx at Northwestern.
"I call him every night and talk to him. He knows what has worked for him in the past and what hasn't. You don't have to reinvent the wheel a lot of times," Betzner said. "His knowledge and willingness to teach is invaluable."
Hendryx and Brett Colby are brothers-in-law. Between them, they compiled 437 wins and three State Finals appearances as head coaches.
"I married into a really good family," Betzner said.