Northwestern's girls basketball team had a lot to celebrate following a 57-48 victory over visiting Western on Tuesday night.
First and foremost, the Class 3A No. 9-ranked Tigers won the Hoosier Conference's East Division with a 4-0 record. They will visit Class 3A No. 1 Twin Lakes on Friday night for the conference championship.
Basketball: Northwestern vs Western
Beyond that, Indiana All-Star candidate and Purdue recruit McKenna Layden and coach Kathie Layden reached milestones. McKenna Layden became the sixth girls player in Howard County history to reach 1,500 career points and Kathie Layden recorded her 200th career win with the Tigers.
Northwestern improved to 14-3 overall with the win in a hard-fought, physical game. Western dropped to 14-6 overall and finished 2-2 in the division.
"That was a great game, a great atmosphere," Kathie Layden said. "Obviously, all games you go into, you want to win, but some games mean a little more. If we win this game, we're playing for first or second place in the conference, but if Western wins, it would have been a three-way tie with Heights, Western and us where we all had one loss. In that situation, we would have been playing for fifth or sixth.
"That was motivation because you want to put yourself in position to play for championships. I thought our girls held their composure well and played basketball."
The Tigers punched their ticket to the championship by outplaying the Panthers in the second half.
Western held a 27-25 halftime lead, but Northwestern opened the third quarter with seven straight points for a 32-27 lead. McKenna Layden capped the run with a 3-pointer.
The Tigers went on to lead 41-33 at the end of the quarter. The Panthers committed seven turnovers in the quarter, which kept them from developing any rhythm and also led to transition opportunities for the Tigers. Lexi Hale provided a spark for the Tigers with six points in the quarter.
Led by Caroline Long's seven-point flurry, the Panthers fought back for a 45-all tie midway through the fourth quarter — but the Tigers had an emphatic answer. First, Hale grabbed an offensive rebound which led to McKenna Layden drilling a corner 3-pointer at 3:27. Then, Western had an errant pass go off an official in its offensive halfcourt. McKenna Layden grabbed the loose ball and raced in for a layup. Fouled on the play, she added the free throw for a 3-point play and a 51-45 lead at 2:58.
Western coach Misty Oliver pointed to that play as a decisive moment in the game. She thought the official was out of bounds and the ball should have stayed with the Panthers.
The Tigers iced the win — their 11th straight over the Panthers — by making 6 of 8 free throws in the final 1:21.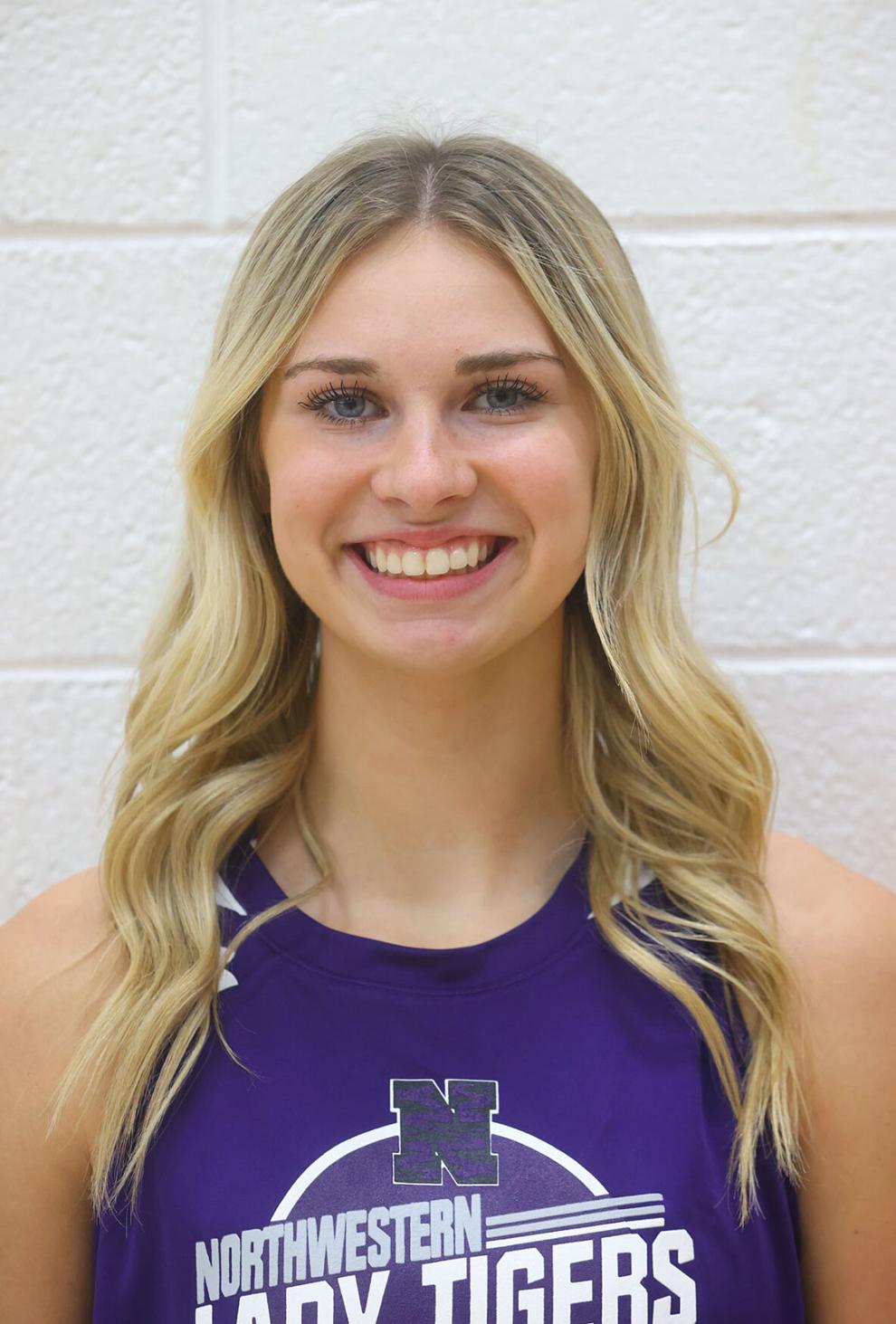 McKenna Layden finished with 29 points, five rebounds, five steals and four assists. Hale had 12 points, 10 rebounds and two blocked shots, Ashley Newell had five points and four assists and Anna Bishir had five points and three steals.
"Lexi Hale, I really can't say enough about her. That was a big double-double," Kathie Layden said.
Mackenzie York led Western with 13 points, McKenna Smith had 12, Long had nine and Chloe Hunt had eight.
"The girls played hard," Oliver said. "It was a physical game, it was an emotional game for the kids. I thought we did a great job of certain things, but then little things [hurt the Panthers]. When you don't value the possession and turn the ball over, those are the things that come back and haunt you. But I'm proud of my kids and proud of their fight.
"Kathie has a great team, she does a great job. [This type of game] is exactly what you want your team to face going into the sectional. It gets you ready. The atmosphere was great. I love for my kids to be able to play in this kind of atmosphere. It's what basketball is about in Indiana."
McKenna Layden joins 2020 Northwestern graduates Madison Layden (2,360 points) and Kendall Bostic (2,032), 1993 Kokomo grad Tiffany Longworth (1,936), 2014 Western grad Nicole Rogers (1,593) and 2010 Taylor grad Shelby Wall (1,578) in the 1,500-point club. McKenna Layden has 1,505.
"When you look at the company she's with, those names and what they were able to accomplish in their basketball careers, that's definitely an honor, and not just for McKenna. That's an honor for our team, for our school, for her teammates. Her teammates have been amazing and she knows that," Kathie Layden said.
Kathie Layden improved to 200-63 in her 11th season at Northwestern and 382-163 in her 23rd season overall. She is a five-time state champion, having led Tri-Central to Class A titles in 2003-05 and Northwestern to Class 3A titles in 2018-19.
"I've been so, so fortunate to have amazing players, amazing coaches to coach with. Wins are under my name, but I'm just the lucky one that gets those numbers under my name. I feel like that's a direct result of being surrounded by great people," she said.
"And like I told them, I wouldn't want to get my 200th win with any other team. I love these girls and their fight."